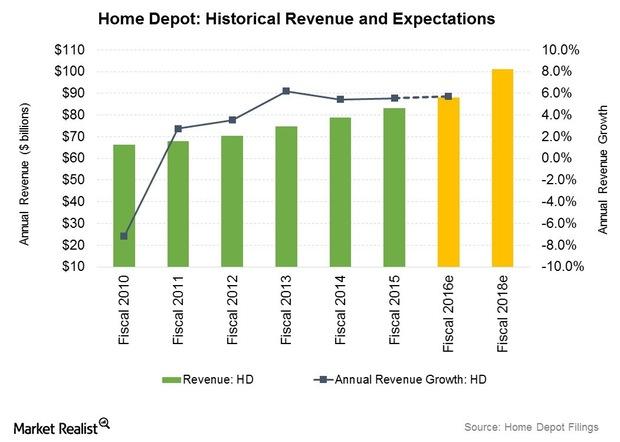 Earnings Preview: Home Depot Expects Record Fiscal 2016 Results
By Phalguni Soni

Nov. 22 2019, Updated 7:19 a.m. ET
Home Depot to declare fourth quarter earnings
The world's largest home improvement retailer The Home Depot (HD) is scheduled to declare results for the fourth quarter of fiscal 2016 on February 23. The quarter and fiscal year ended January 31, 2016. Projections for the company's results are bullish. HD's sales, operating income, and EPS (earnings per share) are expected to rise to the highest levels ever in the fiscal year, according to Carol Tomé, chief financial officer of HD.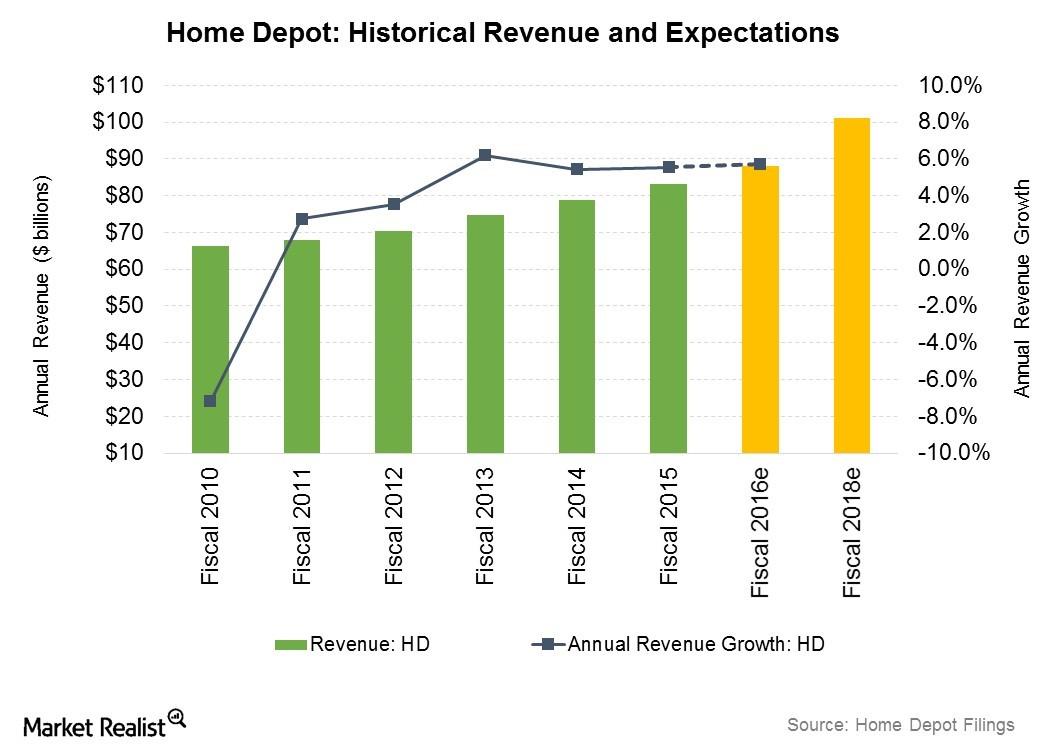 Article continues below advertisement
Growth expectations
Consensus Wall Street analyst estimates project sales of $20.3 billion in 4Q16, up 6.5% over 4Q15. Home Depot's sales have risen 5.5% in the first nine months of the fiscal year. Sales growth for Lowe's (LOW) was 4.9% and 1.6% for Bed Bath & Beyond (BBBY). Big-box retailers Walmart (WMT) and Target (TGT) have seen sales grow by -0.4% and 2.5%, respectively, in the last three quarters. Walmart has the greatest overseas exposure among these retailers and the higher US dollar has adversely impacted its sales growth.
Dow components HD and WMT together constitute almost 8% of the portfolio holdings in the SPDR Dow Jones Industrial Average ETF (DIA). HD is the third-largest holding in DIA.
Interline Brands integration
The apparent acceleration in HD's sales growth in 4Q16 versus the first nine months of the year is largely due to the company's acquisition of Interline Brands, announced last August. With the $1.7 billion purchase, HD intends to participate to a larger extent in the $50 billion maintenance, repair, and operations market.[1. Market data sources: HD Filings, 2014 HIRI Reference Guide; 2015 Harvard University "Emerging Trends in the Remodeling Market," NAICS (North American Industry Classification System), and external market analysis] We'll discuss the Interline purchase and its impact on HD's future growth in part seven of this series.
Medium-term upside
HD is projecting incremental sales of $13 billion in the next three years. At its 2015 Investor Day meeting, the company outlined its strategies on how it's going to get there. In this series, we'll analyze the company's prospects for 4Q16 and fiscal 2016, as well as discuss the longer-term targets the company is eyeing. We'll analyze Home Depot's returns versus those of its peers and the overall market in part 14.
For a detailed overview of the company's business, please read our overview series, Home Depot (HD): Built of Strong Stuff. You can read about HD's rival in our series Investing in Lowe's: The 2nd Largest Home Improvement Retailer.