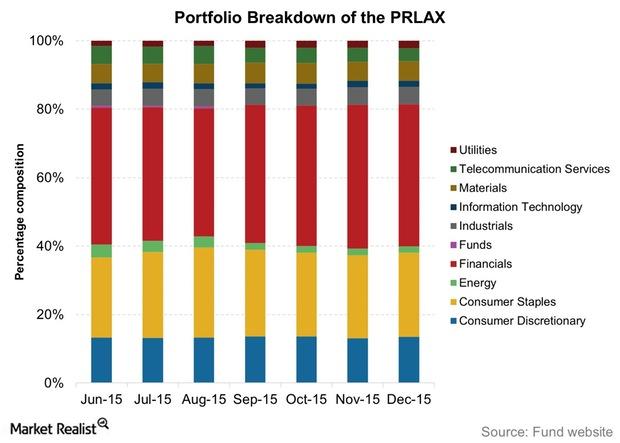 The T. Rowe Price Latin America Fund: A Focus on Financials
By David Ashworth

Jan. 29 2016, Updated 7:20 a.m. ET
T. Rowe Price Latin America Fund
The T. Rowe Price Latin America Fund (PRLAX) seeks long-term growth of capital by investing "primarily in the common stocks of companies located, or with primary operations, in Latin America." Under normal circumstances, the fund will invest in at least four countries from the Latin American region. The fund's primary geographic focus comprises Argentina, Brazil, Chile, Colombia, Mexico, Peru, and Venezuela.
Bottom-up stock research is the backbone of the fund's investment process. The fund management team does not aim at a specific geographic exposure. Instead, it is primarily driven by stocks deemed suitable to the investment objective of the fund.
Article continues below advertisement
As of December 2015, the fund's assets were invested across 49 holdings and it was managing assets worth $441.1 million. As of December, its equity holdings included Grupo Financiero Santander Mexico (BSMX), Banco Santander-Chile (BSAC), Mercadolibre (MELI), Grupo Aval Acciones Y Valores (AVAL), and Grupo Financiero Galicia (GGAL). The fund is quite top-heavy, with its top ten holdings forming 52.1% of the fund's December assets.
Historical portfolios
For this analysis, we'll be considering holdings as of September 2015, as that is the latest available sectoral breakdown. The post-September holdings reflect valuation-driven changes to the portfolio, not the actual holdings.
The fund manager is firmly in favor of financials, as stocks from the sector formed 38% of the fund's assets, according to the latest sectoral composition. The consumer staples sector follows, making up a quarter of the portfolio. The consumer discretionary sector rounds out the top three sectors invested in by the fund. All other sectors form 1.0–5.5% of the portfolio. The fund does not have any exposure to the healthcare sector.
Over the course of 2015, the fund manager's stock selection has resulted in most sectors maintaining their shares. Clear exceptions to that are energy, industrials, and utilities. While energy and industrials have seen their respective shares decline, utilities have seen theirs rise sharply.
At the stock level, consumer staples, industrials, and materials have seen churning. Fund management stuck to most holdings from other sectors during 2015.
How did PRLAX perform in 2015 and which sectors contributed to that performance? We'll discuss this in the next part of this series.