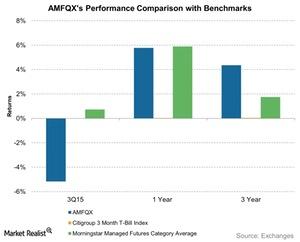 AMFQX: Structural Analysis of an Alternative Mutual Fund
By Ivan Kading

Nov. 20 2020, Updated 2:26 p.m. ET
Alternative strategies
Alternative mutual funds seek to mimic traditional hedge fund strategies to generate risk-adjusted returns for investors. Unlike traditional hedge funds, alternative funds are accessible to retail investors. The 361 Managed Futures Strategy Fund – Investor Class (AMFQX) is one such alternative fund that aims to replicate the "managed futures" hedge fund strategy to achieve its investment objective. The benchmarks for the AMFQX returns are the Citigroup 3 Month T-Bill Index and the Morningstar Managed Futures Category Average.
A performance comparison of the AMFQX with its benchmark is presented in the graph above as of the end of 4Q15.
Article continues below advertisement
Historical performance
The AMFQX has failed to outperform both of its benchmarks due to its recent poor performance. The Citigroup 3-Month T-Bill Index measures monthly return equivalents of yield averages that are not marked to market. The Three-Month Treasury Bill Indexes consist of the last three three-month Treasury bill issues. The Morningstar Managed Futures Category is defined as funds that primarily trade liquid global futures, options, swaps, and foreign exchange contracts, both listed and over-the-counter. Hence, the fund benchmarks its return to the risk-free Treasury bill returns as well as the liquid derivative market.
FRN holdings
Some of the fund's top holdings include FRN (floating-rate notes) of Apple (AAPL), JPMorgan Chase (JPM), Turquoise Hill Resources (TRQ), and Hewlett-Packard Enterprise (HPE) among others. An FRN is a debt instrument whose interest rate is tied to a benchmark such as the US Treasury bill rate or London Inter Bank Offered Rate. The fund is currently managed by Clifford Stanton from 361 Capital. The fund had a net expense ratio of 2.4% with a fund manager fee of 1.5%. A detailed study of the fund's investment methodology and effect on the S&P 500 Index (VFINX) is given in this series.
In the next article, we'll analyze the holdings of the AMFQX fund.