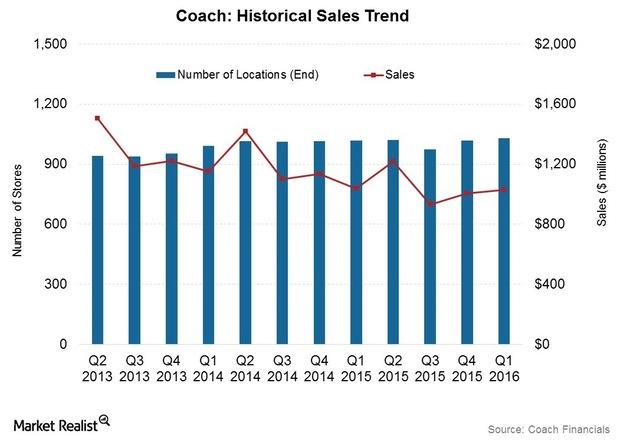 Revenue Drivers: What's Putting Pressure on Coach's Sales?
Highlights from Coach's (COH) latest financial results
In fiscal 1Q16, which ended September 26, 2015, Coach (COH) reported a 1% decline in sales to ~$1.0 billion. However, sales rose 3% in constant-currency terms. The company's adjusted EPS (earnings per share) came in at $0.41, a decline of 22.6% year-over-year. The EPS for 1Q16 included results for the acquisition of designer footwear brand Stuart Weitzman, which contributed $0.04 to the EPS number. The company acquired Stuart Weitzman in 4Q15.
Article continues below advertisement
Revenue drivers
Coach's 1Q16 results continued to feel the pressure in North America, with sales falling by 11.5%. The wholesale channel, particularly in department stores, especially felt the pressure, with sales falling in the mid-teens at POS, or point of sale. Same-store sales fell by 9.5% in North America. Coach's sales also felt the impact of lower discounting activity in the quarter on digital platforms, which reduced comps by 1.5 percentage points.
International sales were heavily affected by the stronger US dollar. Although reported sales fell by 3.2% to $0.37 billion, revenue was up by 6% excluding the adverse forex impact. Double-digit growth in comps was reported in Europe.
Comparison with peers
However, the forex impact has been affecting results for US firms with international operations, including Coach's peers in the luxury segment Ralph Lauren (RL) and PVH (PVH). In the last quarter, Ralph Lauren reported a 1% decline in reported sales to $2 billion, but sales were up by 4% in constant-currency terms. PVH's reported sales fell by 3.1% to $2.2 billion in reported terms but rose 3% excluding the impact of adverse forex movements.
Article continues below advertisement
COH, PVH, and RL together make up 0.73% of the Vanguard Consumer Discretionary ETF (VCR). VCR provides exposure to 383 stocks in the consumer discretionary sector. COH, PVH, and RL also make up 2.7% of the First Trust Consumer Discretionary AlphaDEX(R) Fund (FXD). Textiles, apparel, and luxury goods firms make up 6.2% of FXD's holdings.
Earnings analysis
Coach's margins were also heavily impacted by currency issues. Its gross margin fell by ~1.3 percentage points to 67.6% in 1Q16, largely due to the forex impact and the inclusion of results for Stuart Weitzman. Operating costs included charges related to the company's transformation plan, which also adversely impacted profitability.
However, most of the hit to the financials as a result of the transformation plan has already been seen. The plan is expected to impact fiscal 2016 results by $50 million. However, Coach expects to realize significant annual savings from its transformation plan. Part four of this series discusses the impact of the transformation plan in greater detail.
The next article discusses the recent positive points for Coach as well as their implications.