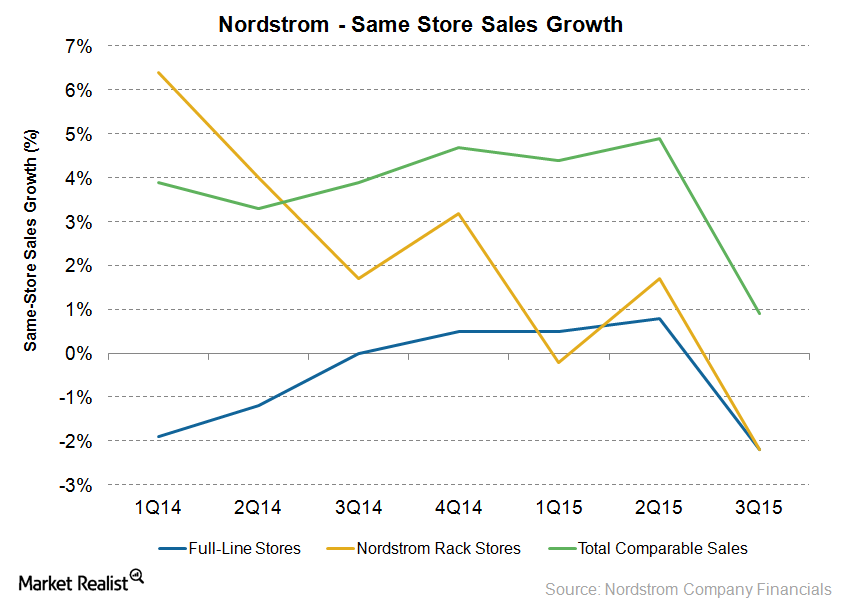 Can Nordstrom's Rack Business Get Its Mojo Back?
Off-price retailing
Off-price retailers such as The TJX Companies (TJX) and Ross Stores (ROST) have consistently performed well, even during difficult economic situations. Off-price retailing is gaining traction as consumers continue to look for value deals and are cautious about their discretionary spending. In 2015, Macy's (M) entered the off-price market through its pilot Macy's Backstage stores and Kohl's (KSS) launched its first Off/Aisle by Kohl's store. Nordstrom (JWN) has aggressively expanded into the off-price space through its Nordstrom Rack stores.
Article continues below advertisement
Importance of Rack to Nordstrom
In 2014, Nordstrom Rack was the biggest source of new customers and attracted about 4 million customers. According to Nordstrom, about one-third of its Rack customers also shop in its full-price business. The company's facility to return online purchases made from HauteLook and nordstromrack.com to any of its Rack stores drove about 1 million incremental trips to its Rack stores in 2014.
The above graph indicates how the company's off-price Rack same-store sales growth outperformed the upscale full-line stores in all quarters of 2014. However, Rack's same-store sales declined in 1Q15 and 3Q15. Department stores Macy's and Nordstrom discussed the existence of a tough retail environment in their 3Q15 conference calls. Together, Macy's and Nordstrom constitute 0.6% of the holdings of the iShares Russell Mid-Cap Growth ETF (IWP) and 0.1% of the iShares Russell 1000 ETF (IWB).
Intense competition
Department stores are facing intense competition from online retailers such as Amazon (AMZN) and off-price retailers. According to data released by the US Census Bureau on January 15, 2016, US department store retail sales fell by 2% in 2015 on a year-over-year basis.
Established off-price retailers have several advantages over department stores expanding into the off-price space. The TJX Companies and Ross Stores have low-cost structures, strong supplier relationships, extensive store presence, and efficient inventory management skills. Nordstrom's focus on further expansion into the off-price retail space might help it attract consumers looking for bargain deals.