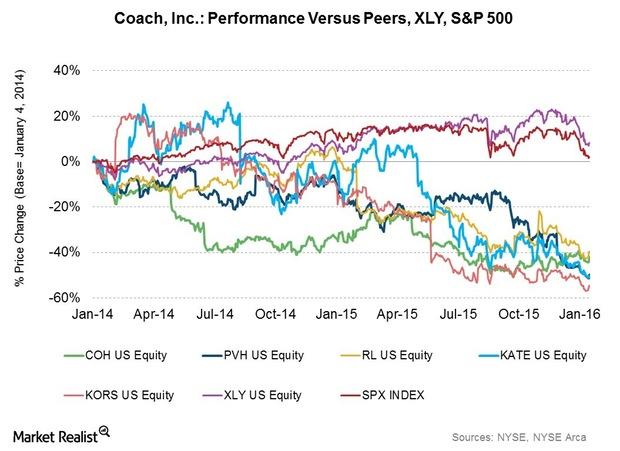 The Lowdown on Coach's Transformation Plan
By Phalguni Soni

Jan. 25 2016, Updated 1:07 p.m. ET
Analyzing Coach's transformation plan
In mid-2014, Coach (COH) unveiled a new transformation plan to stem the drop in revenue and same-store sales. The key elements of Coach's transformation plan include the following:
transforming the company into a global lifestyle brand and growing its business in North America
increasing the brand's international penetration in geographies where it is underrepresented, notably in Asia and Europe
focusing on the opportunity to grow sales in the men's category, including conversion of existing stores to dual gender stores
increasing the focus on e-commerce and omni-channel initiatives to drive sales
"premiumizing" products, with more focus on leather and high-end bags
reducing the frequency of promotional events
revamping stores in line with its "modern luxury" concept and closing unproductive stores
Article continues below advertisement
Transformation plan: financial impact
The financial expenses related to the transformation are expected to be incurred by the end of the current fiscal year. The company incurred charges of $12.6 million related to its transformation plan in 1Q16. To date, the total spent on the plan comes to ~$290 million out of an estimated $325 million in total. The company expects to incur the balance of $35 million in the remainder of fiscal 2016. These expenses will mainly come from store closures and related severance costs, as well as accelerated depreciation charges.
According to Jane Hamilton Nielsen, CFO of Coach, the company expects to generate at least $50 million in incremental savings as a result of its transformational agenda in fiscal 2016.
Implications
In line with its transformation agenda, Coach's net store (XRT) (RTH) count has fallen by 46 over the past year. Further closures are planned this year in North America.
In contrast, Michael Kors (KORS) has increased its retail store count, including concessions, by 116 stores over the last four quarters. Ralph Lauren (RL) store count, including concessions, has increased by 100 over the last four quarters.
It's important that Coach realizes significant savings from its multiyear transformation initiatives. It's also important that the company regains the momentum it had a few years earlier in the North American market through brand positioning.
We'll discuss the company's guidance in the next part of this series.