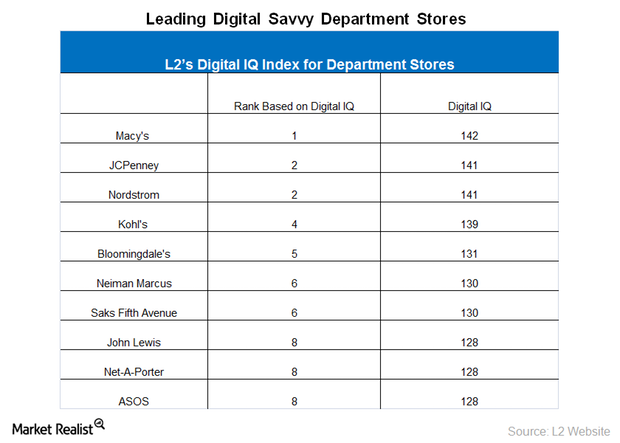 Kohl's Sees Promising Growth in the Online Channel
By Sirisha Bhogaraju

Dec. 28 2015, Updated 5:05 p.m. ET
A key growth area
Online or e-commerce is a key growth avenue for retailers. According to the data released by the US Census Bureau on November 17, 2015, US online sales increased by 15.1% in the third quarter of 2015 on a YoY (year-over-year) basis, while total retail sales increased by 1.6%. Online sales accounted for 7.4% of total retail sales in the third quarter of 2015.
Kohl's Corporation (KSS) launched its online shopping site kohls.com in 2001, trailing peers like J. C. Penney Company (JCP), Macy's (M), and Nordstrom (JWN), which launched their e-commerce sites in 1998, 1996, and 1998, respectively.
Article continues below advertisement
Comparison with peers
Based on the rankings compiled by benchmarking firm L2, Kohl's ranks fourth in the Digital IQ index for department stores with a digital IQ of 139. Macy's tops the index, followed by both J. C. Penney and Nordstrom at the second place in the index.
Kohl's along with Macy's accounts for 0.6% of the holdings of the iShares Global Consumer Discretionary ETF (RXI).
Initiatives to boost online sales
To boost its online sales, Kohl's has been extending its online channel product offerings, with a focus on extended sizes, product line extensions, and web-exclusive product lines. In 2014, the company started a BOPUS (buy-online-pick-up-in-store) facility in about 100 stores. In the first quarter of fiscal 2015, the company was able to roll out the BOPUS initiative to all its stores. According to Kohl's, customers opting to use BOPUS have made additional in-store purchases consistently, exceeding 20% of their original BOPUS orders.
Article continues below advertisement
Kohl's has also rolled out the ship-from-store facility to all its stores, thus making efforts to reduce shipping time and costs, to facilitate better inventory management, and to improve e-commerce fulfillment capacity. The company is also testing the same-day delivery option in certain markets, like Chicago, Boston, and San Francisco.
Enhancing the mobile shopping experience
Kohl's has also made enhancements to its mobile shopping experience. Kohl's introduced the store mode in its mobile app, through which consumers can search store inventory and find in-store promotions that can be applied to their purchases. Kohl's has also introduced enhanced payment options like Apple Pay and Visa Checkout.
The company relaunched its mobile commerce site in September 2015. In its 3Q15 conference call, Kevin Mansell, Kohl's Chair, President, and Chief Executive Officer stated that the new mobile platform generated significantly higher conversions and mobile accounted for 50% of the total online traffic.
Now let's look at Kohl's inventory management.