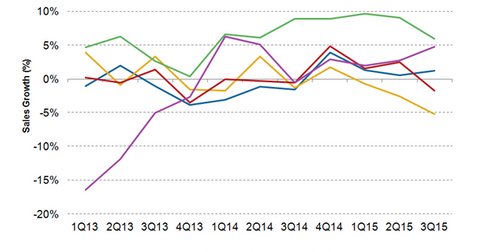 Interpreting Kohl's Key Strengths and Weaknesses after 3Q15
By Sirisha Bhogaraju

Updated
What are Kohl's key strengths?
Kohl's Corporation (KSS) has been able to improve its sales growth in an uncertain retail environment. With the help of initiatives taken under its "Greatness Agenda" program, the company has posted four consecutive quarters of sales growth after reporting lower sales for five straight quarters. The company is making aggressive moves under the Greatness Agenda strategy, such as testing new store formats, as we discussed in Part 10 of this series.
Kohl's is also making significant investments in the IT (information technology) space in order to support the growth of digital channels and omnichannel retailing. The company has also been successful in attracting customers through its "New Loyalty" program, which it launched in October 2014.
Article continues below advertisement
With 1,166 stores in 49 states as of October 31, 2015, Kohl's has an extensive presence in the US. By comparison, rival Macy's (M) has about 900 stores in 45 states, the District of Columbia, Guam, and Puerto Rico. Nordstrom (JWN) had 320 stores in the US as of October 31, 2015, and J. C. Penney Company (JCP) had 1,021 stores as of October 31, 2015. Kohl's newer smaller format stores may also provide the company with a competitive advantage vis-a-vis its peers.
And Kohl's weaknesses?
Kohl's has been late compared to its peers in adopting changes in the department store and retail space in terms of growth in online channels and embracing an omnichannel approach. The company has been taking several initiatives under its Greatness Agenda program to make this right. (See Part 11 of this series for more on the company's initiatives to improve its online business.)
Kohl's has been working towards a lean operating model and staffing levels, but the company's operating margins still lag Macy's and Nordstrom. Together, Kohl's, Macy's, and Nordstrom account for 0.2% of the holdings of the SPDR S&P 500 ETF (SPY).
Operating margins and bottom line
In fiscal 2014, which ended January 31, 2015, Kohl's operating margin came in at 8.9%, compared to 10% of Macy's and 9.8% of Nordstrom. In the first nine months of fiscal 2015, Kohl's operating margin declined to 7.9% from 8.2% in the comparable period of the previous year, as a result of higher information technology amortization.
Given that sales growth isn't seeing a lot of traction in a tough retail landscape, a continued focus on improving margins becomes even more important for the company's bottom line.
Last but not least, let's discuss the opportunities and threats impacting Kohl's.