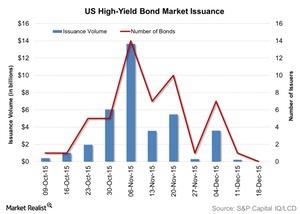 Why Did High-Yield Bond Issuers Avoid the Primary Market?
By Lynn Noah

Nov. 20 2020, Updated 11:31 a.m. ET
High-yield bond markets
High-yield bond issuance fell to zero last week due to two primary reasons. Junk bond issuers stayed away from the primary market due to fears of the default risk that could arise from the recent hike in the US interest rate by the Federal Reserve. Also, the persistent fall in commodity prices led junk bond issuers to stay away from the primary market. High-yield debt is tracked by mutual funds like the American Funds American High Income Trust Fund – Class A (AHITX) and the T. Rowe Price High Yield Fund – Advisor Class (PAHIX).
Article continues below advertisement
According to data from S&P Capital IQ's LCD (Leveraged Commentary and Data), there was no issuance of dollar-denominated high-yield debt in the week ended December 18. In the prior week, high-yield issuance stood at $225 million. The number of transactions fell to zero last week from one in the prior week.
With no issuance last week, the total US dollar-denominated issuance of high-yield debt stayed at $262.2 billion in 2015 YTD(year-to-date). This is lower by 16.0% when compared to the corresponding period in 2014.
No issuance last week
There was no junk bond issuance last week as junk bond issuers stayed away from the primary market. In the week before that, however, there was one issue of junk bonds. Clear Channel International B.V. is an indirect and wholly-owned subsidiary of Clear Channel Outdoor Holdings (CCO). The subsidiary issued dollar-denominated junk bonds worth $225 million in the prior week for refinancing older debt.
In December 2015, HCA Holdings (HCA), an indirect and wholly-owned subsidiary of Aramark (ARMK), as well as Ball Corporation (BLL) and Mednax (MD) were some of the issuers of junk bonds.