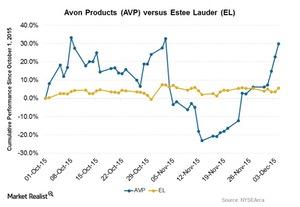 Avon Products Blasts off on December 4, but NGR Energy Crashes and Burns
Top stocks
Stock at the top of the SPDR S&P 500 ETF (SPY) on December 4 were Newmont Mining (NEM), Avon Products (AVP), and Endo International (ENDP), respectively. These stocks gained by 9.2%, 5.8%, and 4.8%, respectively, on the day.
The graph below presents the stock-price movement of the Avon Products (AVP) and its peer company, Estee Lauder (EL), since October 2015.
Article continues below advertisement
Avon Products flying high
The stock price target of Avon Products (AVP) was raised from $4.67 to $6 by Citigroup analysts, who also gave the stock a "Buy" rating. The company's stock rose on Friday, December 4, on the speculation that the company is about to sell its North American business to a private equity firm.
Meanwhile, the six-month beta value of AVP reached 1.63, suggesting that the stock had been very volatile in the past six months. The value was 0.96 for EL, because EL is less sensitive to the broad market movement and more stable than AVP.
For AVP, the trailing five-day return over the past week was 22.3%. The trading volume of AVP surged to ~27 million stocks on December 4, way up from the five-day average volume of ~13.8 stocks, owing to the company's business sale speculation.
AVP has earned two "Buy" recommendations, one "Sell," and 11 "Hold" recommendations. The stock is rated as "B+" by S&P, with a "Stable" outlook, whereas Moody's maintained its "Negative" outlook for the company's stock.
Bottom SPY stocks on December 4
Stocks at the bottom of SPY on December 4 included NRG Energy (NRG), Kinder Morgan (KMI), and Consol Energy (CNX). These stocks gained by -18.0%, -12.7%, and -11.2%, respectively, on the day.
The plunge in oil prices contributed to the decline in stock prices of these stocks on December 4. In the case of NRG Energy (NRG), its stock fell on the day due to oil prices and because its CEO, David Crane, stepped down from the position, the day before. The company had already announced its plan to sell two of its generating plants.
Now let's take a glance at the UK stock market on December 4.