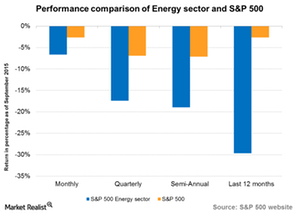 A Look at Current and Future Scenarios of the Energy Sector
By Seth Bennett

Nov. 1 2015, Published 11:41 a.m. ET
The S&P 500 energy sector index return
The energy sector of the S&P 500 index returned 13.4% for the monthly period ending October 29, 2015. However, the energy sector index ended the third quarter with a return of -6.7% for September 2015. The energy sector has faced the issue of falling oil prices from over the last year, resulting in lower revenue for oil companies. In September, the price for Brent crude remained below $50 per barrel for 20 consecutive trading days.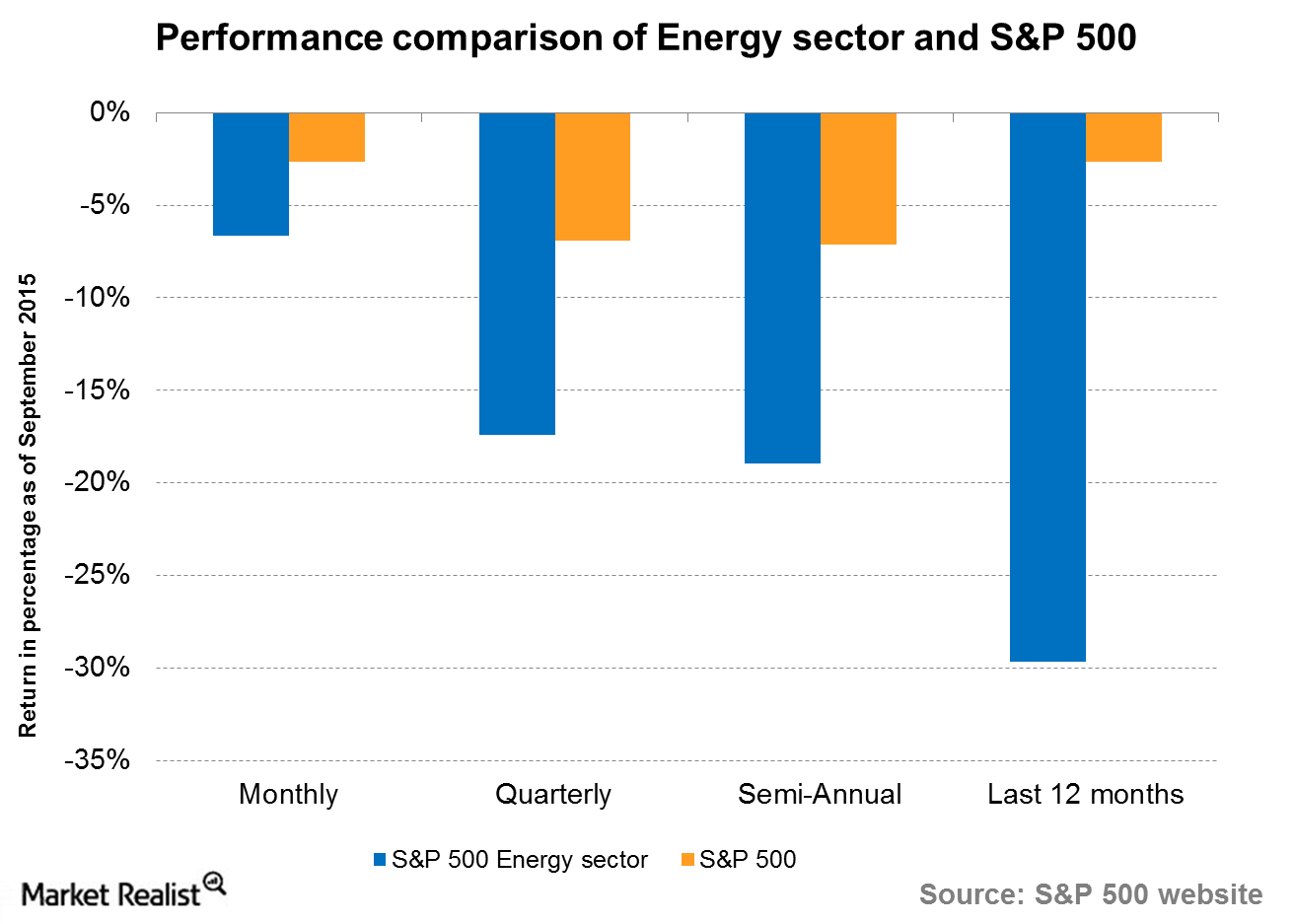 Article continues below advertisement
More on the Energy Information Administration's forecast
The average price for Brent crude oil rose by $1, to $48, in September as compared with the previous month. Meanwhile, the West Texas Intermediate future traded at $46.1 per barrel on October 29, 2015. The Energy Information Administration (or EIA) forecast that the average price of Brent crude oil will be close to $59 in 2016.
The monthly and quarterly returns of the S&P energy sector index fell 6.7% and 17.4%, respectively, for the period ending September.
According to the EIA, total crude oil production fell by 120,000 barrels per day in September as compared to August. A fall in Brent crude oil price from $105.7 in July 28, 2014, to $46.6 in October 29, 2015, resulted in poor investment return, and so led to a fall in the number of wells being drilled for production.
Article continues below advertisement
Fall in number of rig count
Rig count gives an idea of how confident producers are for the long-term supply of oil and gas. The number of rigs in the United States is falling each month. According to a Baker Hughes report, the numbers fell from 864 in September 2015 to 787 as of October 23, 2015. According to the EIA, the current lower production of oil in the United States is pushing prices upward, but the global slowdown in economic growth is limiting its upward movement.
The EIA has forecast a fall in the revenue of US natural gas, heating oil, and propane by 10%, 25%, and 18%, respectively, due to the expectation of a lower fuel price and a warm winter (from October 2015 to March 2016).
Energy companies' performance
For September, stocks of large oil companies fell. The Vanguard 500 Index Fund (VFINX), with an exposure of 6.9% to the energy sector, fell by 2.5%. Schlumberger (SLB) fell by 10.9%, and EOG Resources (EOG) fell by 7%. Meanwhile, Chevron (CVX) fell by 2.6%, and Alon USA Energy (ALJ) fell by 1.7%.
In the next article, we'll analyze the different mutual funds and how they are impacted by the energy sector.