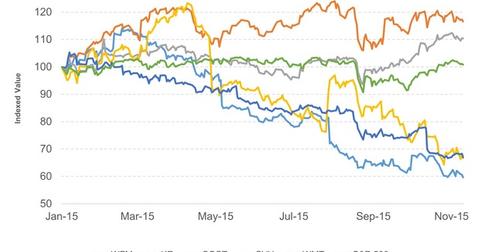 Evaluating Whole Foods' Stock Price and Dividend Payout in 2015
By Sonya Bells

Updated
Stock price movement
Whole Foods Market (WFM), which was still considered a growth stock in 2013, has been among the worst performers in its peer group during the year. As of November 13, 2015, the company's share price dropped by 40% YTD (year-to-date), making it 47% lower than it was in February 2015, at its one-year high. Meanwhile, rival Kroger Company (KR) registered a 15% rise, and Costco Wholesale Corporation (COST) gained more than 10% over the same period.
The stock prices of Wal-Mart Stores (WMT) and Sprout Farmers Market (SFM), Whole Foods' other competitors in the industry, also plunged during 2015, both registering falls of ~33% YTD. Whole Foods also underperformed S&P 500 index, which registered a 0.6% YTD decline as of November 13, 2015.
Article continues below advertisement
Dividends and share buyback programs
Whole Foods announced a 4% quarterly dividend increase during its 4Q15 results, which brings its quarterly dividend to $0.135. As of November 13, the company's dividend yield, which measures the amount of cash flow an investor can get for each dollar invested in an equity position, stood at approximately 1.7%. Whole Foods' dividend yield at this point in 2015 was still higher than that of Kroger's, which saw a yield of 1.05%, but it was lower than that of Costco, which saw a yield of 4.2%, and Wal-Mart, which saw a yield of 3.4% during its comparable quarter. Supervalu, The Fresh Market, and Sprout Farmer's Market do not offer dividends.
Whole Foods also recently announced a $1 billion share buyback program. The share buyback program is Whole Foods' effort to uplift its EPS (earnings per share), which was negatively affected by the company's declining profitability. The company returned close to $700 million to its shareholders through dividends and share repurchases during its fiscal 2015, which ended on September 27, 2015.
ETF exposure and what's next