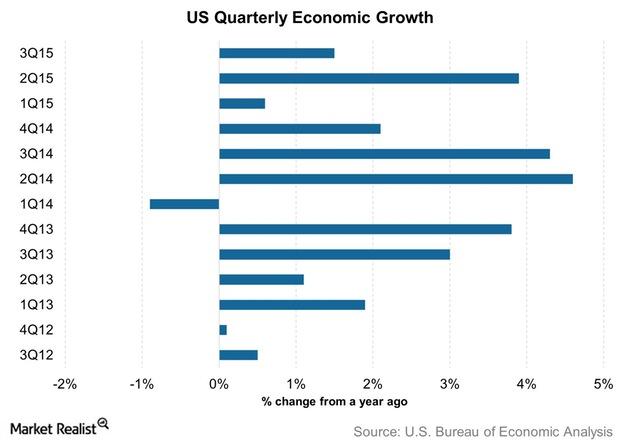 Does a 1.5% Rise in Economic Growth Merit a Rate Hike in the US?
By David Ashworth

Nov. 11 2015, Published 4:10 p.m. ET
Economic growth
Economic growth in the US slowed to a 1.5% pace in 3Q15, according to the advance estimate by the Bureau of Economic Analysis. This was sharply down from the 3.9% pace set in 2Q15. The slowdown was primarily due to low inventory additions by US businesses. Inventory accumulation fell to $56.8 billion in 3Q15, compared to $113.5 billion in 2Q15.
The pace of economic growth is an important factor when it comes to monetary policy decisions. Policymakers need to be sure that the economy is firing on most—if not all—cylinders, and that it is well positioned to absorb a rate hike and still continue growing.
If this indicator makes policymakers suspect about the condition of the economy, they could avoid raising interest rates. This move may considerably slow economic growth or even lead to a contraction, requiring monetary support by the central bank.
But can this slow economic output still lead to a rate hike in December?
Article continues below advertisement
Yes, it can
The reason for the door remaining open for a rate hike in December, even after a slowdown in economic growth, is strong consumer spending. This factor had market participants worried earlier in 2015, as US consumers gave stores like Macy's (M), JCPenney (JCP), and Nordstrom (JWN) a miss, despite lower gas prices freeing more money for discretionary spending. This behavior, at least in part, was attributed to severe weather conditions through much of the country in early 2015.
However, since spring and summer, US consumers have increased their spending, given the fall in gas prices and more people returning to the workforce.
Because consumer spending is vital to the economic output of the US, this desire to spend shows that the US economy appears to be in strong shape. Due to this, a rate hike is very much on the table in December 2015.
Impact on mutual fund investors
Strong economic growth is good for investors in diversified mutual funds like the T. Rowe Price Growth Stock Fund (PRGFX) and the Hartford Capital Appreciation Fund (ITHAX). However, net exports should continue to put pressure on the US economy if the global economy weakens further. This would negatively impact exporters' stocks as well as these funds.
A further strengthening in the US dollar, or a fall in domestic consumption in the US, could warrant a rebalancing decision from investors.
In the next article, we'll move from economic growth to the situation in the US labor market.