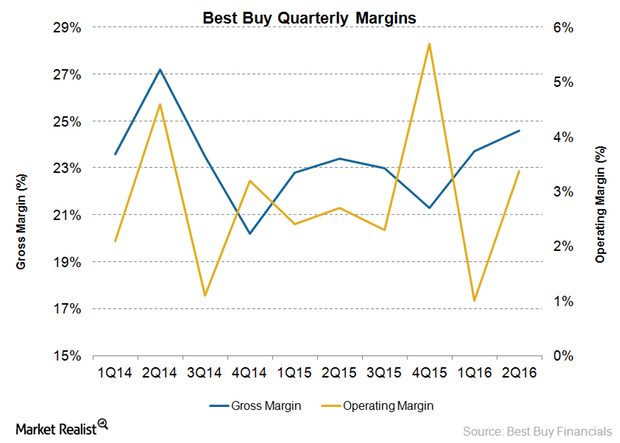 Best Buy's Cost Reduction Efforts: Can It Expand 3Q16 Margins?
Cost reduction efforts
As part of its Renew Blue cost reduction and gross profit optimization program, Best Buy (BBY) aims to reduce $400 million in costs over three years as of the end of fiscal 3Q16, which for Best Buy ended on October 31, 2015. As at the end of its fiscal 2Q16, the company brought down $100 million in annualized costs. However, these savings are expected to be offset by the incremental investments in the company's growth initiatives. Such growth initiatives are expected to be ~$120 million in 2015.
Article continues below advertisement
Margins in the previous quarter
Best Buy reported a gross margin of 24.6% in fiscal 2Q16, up from 23.4% in the comparable quarter of the previous year. This improvement in the company's gross margin was attributed to higher margins in the company's domestic segment. Some of the drivers that resulted in gross margin improvement included the following:
favorable changes in mobile warranty plans
rate improvements in computing hardware
favorable mix of the higher-margin large screen televisions
Meanwhile, Best Buy's operating margin in fiscal 2Q16 increased to 3.4% from 2.7% in 2Q15 due to higher gross profits. However, both Best Buy's growth investments and tis increased expenses from inflation had an adverse impact on its fiscal 2Q16 operating margin. Best Buy constitutes 0.9% of the holdings of the SPDR S&P Retail ETF (XRT).
Peers GameStop (GME) and Conn's (CONN) reported operating margins of 2.9% and 9.1%, respectively, in their comparable second quarters. Aaron's (AAN), which announced its third quarter results on October 30, reported an operating margin of 5.6% in 3Q15, which was up from 2.9% in 3Q14.
3Q16 expectations
For its domestic segment, Best Buy expects the operating margin in fiscal 3Q16 to be flat compared to 3Q15, as any potential higher gross margin is expected to be offset by higher selling and SG&A (general and administrative) expenses. The company's rise in SG&A expenses is expected to be caused by inflation and growth investments. The company expects its International Segment operating margin to come in between -2.5% and -3.5% due to the impact of Canadian brand consolidation and foreign currency fluctuations.
Overall, the company expects its fiscal 3Q16 operating margin to remain flat or decline by 20 basis points on a year-over-year basis. Its 3Q16 operating margin has likely been unfavorably impacted by a $11.5 million legal settlement gain that the company received in fiscal 3Q15.
Continue to the next and final part of this series for a look at Best Buy's online focus.