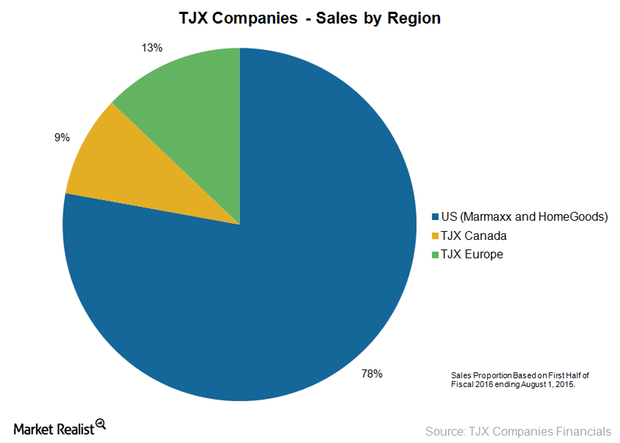 The TJX Companies Enters Australia with Trade Secret Acquisition
TJX acquires Trade Secret
On October 25, The TJX Companies (TJX) announced the completion of its acquisition of Trade Secret, an off-price retailer based in Australia. The TJX Companies had initially announced a definitive agreement to purchase Trade Secret in July 2015. The company acquired Trade Secret from Gazal Corporation for 80 million Australian dollars.
Article continues below advertisement
More on Trade Secret
Trade Secret is an Australia-based off-price retailer that sells apparel, footwear, accessories, and home fashions. Trade Secret sells its top brand fashion and homewares for up to 60% less than other retailers. Trade Secret operates 35 stores in Queensland, New South Wales, Victoria, and the Australian Capital Territory. It opened its first store in 1992. The company generated over 160 million Australian dollars in revenue in the fiscal year ended June 2015.
The TJX Companies' international presence
The acquisition of Trade Secret marks the entry of The TJX Companies into the Australian market. TJX currently operates one of its 13 buying offices in Australia. As of August 1, 2015, The TJX Companies operated a total of 3,461 stores, including 2,629 stores in the United States, 456 stores in Europe, and 376 stores in Canada. The TJX Companies constitutes 1.1% of the holdings of the SPDR S&P Retail ETF (XRT) and 0.6% of the iShares Russell Top 200 Growth ETF (IWY).
Article continues below advertisement
The TJX Companies entered the Canadian market with the 1990 acquisition of Winners Apparel, a Toronto-based chain of five off-price family apparel stores. The company entered the European market by establishing TK Maxx in the United Kingdom in 1994. Today, the company's presence in Europe includes stores in the United Kingdom, Ireland, Germany, Poland, and Austria. The company plans to open two new stores in the Netherlands in fall 2015.
Other off-price retailers, such as Ross Stores (ROST) and Burlington Stores (BURL) lack the international presence of The TJX Companies. Upscale department store Nordstrom (JWN), which also operates the off-price Nordstrom Rack stores, entered the Canadian market in 2014. In September 2015, Nordstrom opened its third store in Canada in CF Pacific Centre in Vancouver. Including the existing three stores, Nordstrom plans to open six stores in Canada by spring 2017.
In the next part of this series, we'll discuss how The TJX Companies has been faring in its international markets in 2015.