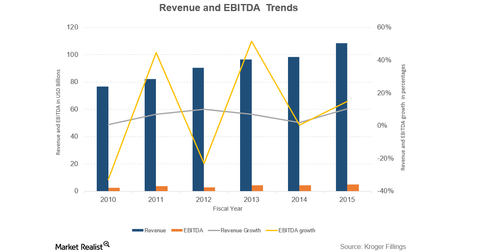 Snapshot of Kroger's Business and Financial Performance
By Sonya Bells

Updated
Kroger's business snapshot
Founded in 1883 by Barney Kroger as a small grocery store, The Kroger Co. (KR) has grown to become the largest supermarket operator in the US. It is also one of the world's largest grocery retailers, surpassed only by Walmart (WMT) in grocery sales.
Headquartered in Cincinnati, Ohio, the company operates more than 2,600 supermarket stores, 782 convenience stores, and 326 fine jewelry stores. The company's family of stores spans 34 states in the US, and it held 24th place the Fortune 100 list published in June 2014.
Article continues below advertisement
Product diversification
Kroger has diversified its stores in all directions. It currently sells thousands of grocery items, as well as gas and pharmacy products. It operates more than 2,000 in-store pharmacies and has installed fuel centers in more than 1,330 locations.
Kroger operates 37 food processing facilities that supply ~40% of the corporate brands sold at its stores.
Financial performance
Strict cost discipline, years of technology upgrades, strong focus on customer engagements via loyalty programs, and lower prices have enabled Kroger to drive its sales gains and profitability.
The company has achieved a five-year CAGR (compounded annual growth rate) of 7.2% in sales and 14.2% in EBITDA (or earnings before interest, taxes, depreciation and amortization).
Article continues below advertisement
Stock price performance
Kroger's (KR) stock has registered outstanding growth in the last few years. Its share price has risen by around 250% since 2010, more than 90% since 2014, and around 19% year-to-date (or YTD), as of October 29, 2015.
Kroger's stock performance has been far superior to that of its peers, who have seen a fall in their share prices during the current year. As of October 29, 2015, the stock price of Whole Foods Market (WFM) was down 40% YTD, Sprout Farmers Market (SFM) was down 39%, SuperValu Inc. (SVU) fell by 31%, and Walmart Stores Inc. (WMT) registered a decline of 33% YTD.