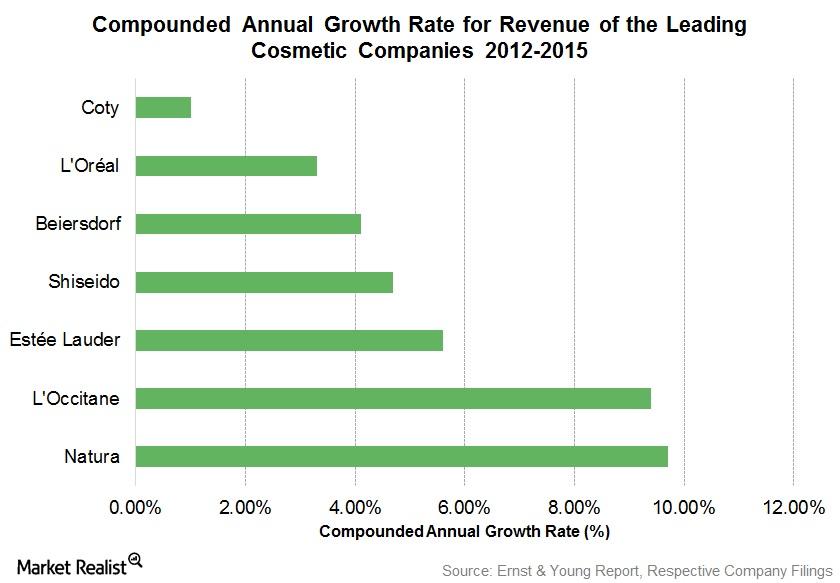 An Inside-Out Breakdskinown of Fragrance Giant Coty
By Penny Morgan

Nov. 20 2020, Updated 12:06 p.m. ET
Understanding Coty's business
Coty Inc. (COTY) is a leading global beauty products and fragrances company founded in Paris in 1904. The company has a portfolio of well-known brands such as Calvin Klein and Marc Jacobs (licensed brands), as well as OPI, Lancaster, and philosophy (owned brands). All these brands compete across both the prestige and mass market channels in over 130 countries and territories.
Coty operates under three product segments:
Fragrances
Color Cosmetics
Skin Care & Body Care
The company's consolidated revenue came in at ~$4.4 billion in fiscal 2015.[1. Year ending June 30, 2015] Coty's top ten brands, which the company refers to as "power brands," generated 72% of its net revenue in fiscal 2015.
On July 9, 2015, Coty entered into a transaction agreement with Procter & Gamble's (PG) 43 beauty brands in a Reverse Morris Trust deal. Coty offered $12.5 billion for these brands. To learn more about the deal, please read Coty Buys 43 Procter & Gamble Brands: What Investors Should Know.
With the conclusion of the transaction, Coty is projected to become the number one player in fragrances. It should also become the number three player worldwide in color cosmetics and beauty products.
Article continues below advertisement
Leading cosmetics company
According to an Ernst & Young report cited in Statista, Coty is ranked as one of the leading cosmetics companies globally.
Coty's compounded annual growth rate (or CAGR) was reported at 1.0% between 2012–2015. Among its peers, Estée Lauder (EL) reported a CAGR of 5.6%, Shiseido's (SSDOY) CAGR was 4.7%, Beiersdorf's (BDRFY) CAGR was 4.1%, and L'Oréal (LRLCY) reported a CAGR of 3.3%.
Coty's market cap versus its peers
Coty's market cap of $9.2 billion is comparatively lower than its peers L'Oréal and Estée Lauder. L'Oréal's market cap is $97.0 billion, and Estée Lauder's market cap is $29.2 billion, respectively. However, other companies like Revlon (REV) and Avon Products (AVP) have market caps lower than Coty. Revlon's market cap is $1.5 billion, and Avon's market cap is $1.4 billion.
Coty has exposure in the iShares Morningstar Mid-Cap Value ETF (JKI), with ~0.2% of the total weight of the portfolio.