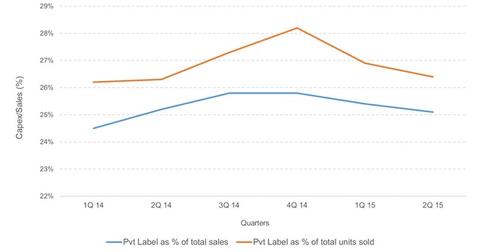 In-House Production, Private Labels Boost Kroger's Bottom Line
By Sonya Bells

Updated
US grocery market
The size of the US grocery market as of 2013 has been estimated at $576 billion by the US Department of Agriculture. Competition at the top is fierce, and about half of the revenue in 2013 was generated by the top ten players. Walmart Stores Inc. (WMT) and Kroger (KR) held the number one and two slots.
Walmart came up as the winner in the cost leadership game due to its size, which provides it with immense bargaining power with suppliers. As mentioned in Part 9 of this series, Walmart has been Kroger's closest competitor in most of its major markets.
Whole Foods Market (WFM) and Sprouts Farmers Market Inc. (SFM) are strong competitors in the burgeoning organic foods market. To lower costs and stay competitive, Kroger has been focusing on its own manufacturing facilities and private label brands.
Article continues below advertisement
Kroger's private label brands
Kroger has a strong focus on building its own corporate brands. These brands accounted for 26% of total store dollar sales and 27% of the total units sold in fiscal 2015, which ended January 31, 2015. Kroger's private-label brands cater to all customer types and include a range of value, middle, and high-end items.
Kroger's natural and organic Simple Truth line exceeded $1 billion in sales during fiscal 2015 and registered double-digit growth. It is currently the largest natural food brand in the US. The company benefits from its huge private label portfolio, as margins tend to be wider on private-label products.
Kroger's manufacturing facilities
Kroger has had a strong focus on in-house production since the company's inception. In 1901, Kroger became the first grocery store in the US to establish its own bakeries. The store was also the first in the country to sell meat and groceries under one roof. Currently, Kroger operates 37 food processing facilities that produce baked goods, dairy products, meat, and thousands of other grocery items.
Approximately 40% of the corporate brand units sold in Kroger's supermarkets are produced in its manufacturing plants. In-house production allows the company to lower costs, boost margins, and increase customer satisfaction by passing on the benefits in the form of lower prices.