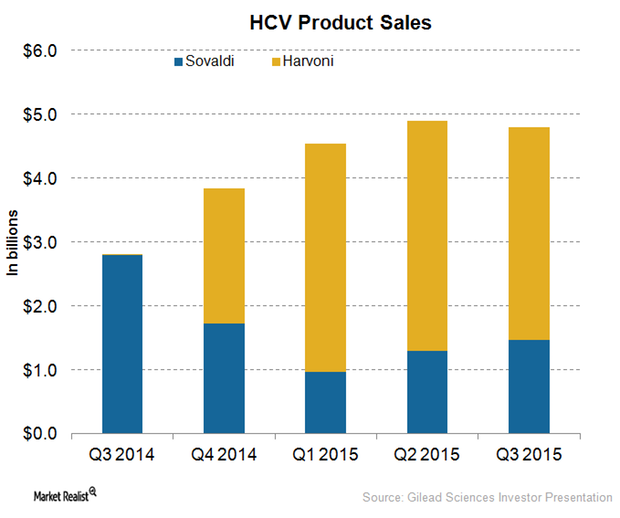 Gilead Sciences Continued to Expand HCV Markets in 3Q15
By Margaret Patrick

Nov. 4 2015, Updated 8:08 a.m. ET
HCV product sales
In 3Q15, Gilead Sciences' (GILD) total hepatitis C (or HCV) product sales reached about $4.8 billion, a rise of 70% from $2.8 billion in 3Q14. 3Q15 sales of the company's HCV products, which are distributed across the US, Europe, and international markets, amounted to about $3.2 billion, $869 million, and $696 million, respectively. Harvoni revenues comprised of more than 78% of the company's total HCV sales in the US.
Article continues below advertisement
US market
In 3Q15, Gilead Sciences' HCV revenues in the US rose by about 67% on a year-over-year (or YoY) basis. The company witnessed a gradual decline in HCV demand in the retail sector in the US, but a significant rise in demand in the non-retail sector due to increased spending by the Department of Veteran Affairs (or VA).
Prior to the launch of Gilead's Sovaldi and Harvoni and AbbVie's (ABBV) VIEKIRA PAK, HCV patients were treated with interferon therapy injected subcutaneously, or under the skin, mainly provided by Roche (RHHBY) and Merck (MRK).
In 1Q15, Gilead Sciences experienced a sudden increase in new HCV patients, as there was warehoused demand from 2014 from people who were deferring their therapy until the launch of Harvoni. In 4Q14, just after the launch of Harvoni, Gilead Sciences treated 45,000 new HCV patients. The number rose to 70,000 new patients in 1Q15, but fell to 62,000 in 2Q15, and finally about 58,000 in 3Q15. This data thus indicates that the level of these warehouse patients is on a decline. The company projects that the rate of new patients initiating HCV therapy will thus stabilize in 2016.
Article continues below advertisement
Europe and international markets
In 3Q15, about 25,000 new patients initiated Gilead Sciences' HCV therapy in Europe. Since the beginning of 2015, 80,000 new patients have started their treatment with Sovaldi and Harvoni.
Gilead Sciences has witnessed a strong demand in markets such as Spain and Italy, where there is high prevalence of the disease. These countries have been witnessing warehoused demand since 2Q15, which continued in 3Q15. The demand is expected to gradually decline and then stabilize in these markets. Similar to the US, the early launch markets such as Germany and France initially witnessed a steep uptake that gradually declined to more consistent levels.
On July 29, 2015, in its final appraisal determination for Gilead Sciences' Harvoni, the National Institute for Healthcare and Excellence (or NICE) in the United Kingdom, recommended Harvoni as one of the three treatment options for HCV patients in the country. NICE has also suggested that the National Health Service (or NHS) should provide reimbursement for Harvoni to treat genotype one and genotype four patients in England and Wales.
Additionally, the company received reimbursement-related approvals in Austria and Sweden for its HCV drugs. The company also plans to launch Sovaldi and Harvoni in the Netherlands and Poland in November 2015.
The launch of Gilead's HCV drugs in Japan has also proved to be commercially successful. In Japan, Sovaldi was launched on May 25, 2015, while Harvoni was launched on September 1, 2015.
Instead of directly investing in Gilead Sciences and being exposed to excessive company-specific risks, you can invest in the company through the Vanguard Growth ETF (VUG). Gilead Sciences accounts for 1.6% of VUG's total holdings.