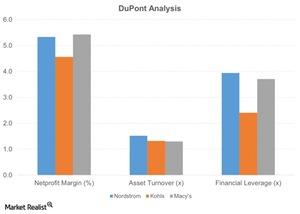 DuPont Analysis of Nordstrom against Its Peers
By Mark Jonker

Updated
DuPont analysis
Dupont analysis is a highly important tool in the hands of any analyst to understand the value a company can generate for its stakeholders. The Dupont equation breaks ROE (return-on-equity) into three parts, which are net income margin, asset turnover, and financial leverage.
Article continues below advertisement
Net profit margin
Nordstrom (JWN) has averaged an EPS (earnings per share) growth of around 5% in the last three years, and has been able to earn a substantial margin for its equity holders. Nordstrom's net profit margin in the last fiscal year was 5.3%. It has averaged 5.5% in the last three fiscal years.
Asset turnover
Asset turnover is a tool used to measure the efficiency of a company. It gives an idea about the value of revenue generated by a company relative to its assets. Nordstrom's average asset turnover is 1.5x, whereas the industry average is 1.3x.
Article continues below advertisement
Financial leverage
Financial leverage, sometimes called debt ratio, measures the amount of debt held by a company. It helps in analyzing the leverage a company receives in its profitability due to tax-deductibility of interest on debt. It also gives an idea of whether a company's debt is at a manageable level or not. Nordstrom's financial leverage as of fiscal 2014 is 3.9x.
Return on equity
Nordstrom's ROE comes to 32%. Its peers in the SPDR S&P Retail ETF (XRT), Macy's (M), Kohl's (KSS), and Ralph Lauren (RL), have ROEs of 13.37%, 26.66%, and, 15.53%, respectively.
Nordstrom's fundamentals and technical performance as outlined in this series put the company ahead of its peers, but let's have a look at what the consensus on Wall Street has been for the company.