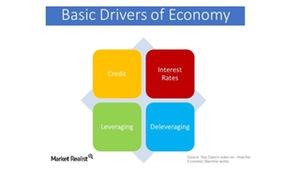 Analyzing China's Transition to a Consumer-Driven Economy
By Lynn Noah

Updated
China uses cheap credit to prop its economy
The Chinese economy's influence on the health of the overall economy has never been more evident than in August 2015 when its equity markets fell. The equity markets brought the developed market indices down with them. Their easy credit policies contributed to the bubble in the equity markets. This has been observed by Market Realist since 1Q15. Ray Dalio—the founder of Bridgewater Associates—noted that bubbles are expected from economies with capital markets that are in the early development stages.
Article continues below advertisement
Export-oriented to consumer-driven economy
China's transitioning from an export-driven economy to a consumer-driven economy in its quest for complete autonomy from outside forces like the US. In order to bounce back and transform its economy to consumer driven, China will have to increase the consumption. This can be done by increasing household income and reducing the savings rate. Financial reforms are needed in order for these policies to be implemented successfully. The Chinese Central Bank has made efforts in this direction by slashing interest rates. The Chinese government will also need to increase its spending on healthcare and social protection.
China will also need to reformulate the prevailing "hokou" system for distributing social benefits. In order to receive social benefits, a resident needs to have a local hokou. This isn't possible given the migration of workers in search of better job prospects.
Our focus
After getting a brief idea about the economic drivers, let's look how they impact the Chinese economy and China-focused mutual funds—namely the Clough China Fund – Class A (CHNAX), the Fidelity China Region Fund – Class C (FHKCX), the John Hancock Greater China Opportunities Fund – Class A (JCOAX), and the Matthews China Fund – Investor Class (MCHFX).
Companies like Alibaba Group Holding (BABA), Youku Toduo (YOKU), JD.com (JD), and 58.com (WUBA) are dominant players in China's information technology sector.
In the next part, we'll see how China's labor productivity is related to debt.