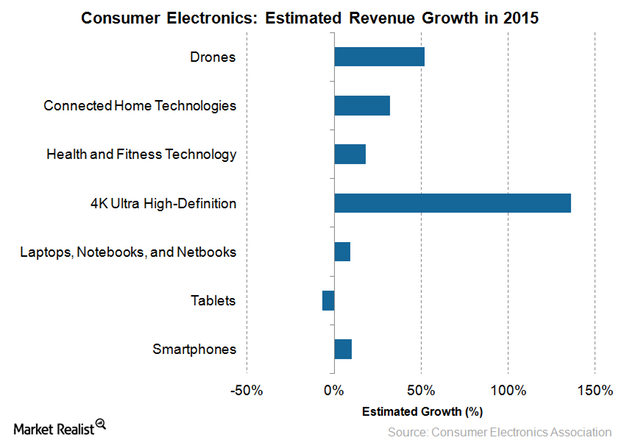 Macy's Could Benefit from Higher Demand for Consumer Electronics
By Sirisha Bhogaraju

Nov. 20 2020, Updated 11:54 a.m. ET
Partnership with Best Buy
Article continues below advertisement
Demand for consumer electronics
According to a report released by the CEA (Consumer Electronics Association) in July 2015, retail revenue for the consumer electronics industry is expected to rise by 2.4% in 2015, to $285 billion. This increase is expected to be driven by an expected 101% rise in revenue from emerging product categories.
The emerging product categories include 4K UHD TVs (ultra-high-definition televisions), connected home technologies, unmanned aerial vehicles or drones, health and fitness technology, home robots, smart eyewear, and smartwatches. Currently, these emerging categories represent less than 5% of the 2015 estimated consumer electronics industry revenue.
Expected revenue growth by category
CEA forecasts revenue from health and fitness devices, like activity trackers, to rise by 18% to $1.8 billion in 2015. Target (TGT) recently struck a deal with wearable fitness tracking device maker Fitbit (FIT) to offer Fitbit's activity tracker to its 335,000 US employees, marking the largest corporate deal for Fitbit.
CEA expects smartphones, tablets, LCD TVs (liquid-crystal-display televisions), laptops, and desktops to remain the top five categories in 2015 based on revenue. Smartphone revenue is expected to rise by 10% to $54 billion. Weakness in tablets demand is expected to continue, and the category is expected to fall by 7%. Revenue from laptops, notebooks, and netbooks is expected to rise by 9% to reach $18 billion. Revenue from 4K UHD TVs is expected to rise by 136% to $5.3 billion in 2015.
Article continues below advertisement
How the trend benefits Macy's
Though the Best Buy shops within Macy's stores might not initially offer some of the aforementioned products, the general demand for consumer electronics is likely to benefit Macy's. The deal gives Macy's an edge over rivals like Nordstrom (JWN) and JCPenney (JCP) due to the demand for consumer electronics in the holiday season. It also increases cross-selling opportunities for Macy's. Macy's makes up 0.7% of the iShares U.S. Consumer Services ETF (IYC).
According to the United States Census Bureau, US retail sales for 4Q14, which includes the holiday season, increased by 4.1% on a year-over-year basis and by 0.4% on a quarter-over-quarter basis. Sales at consumer electronics and appliance stores increased by 4.2% in 4Q14 on a year-over-year basis and 0.9% on a quarter-over-quarter basis.
However, 4Q14 sales at department stores, excluding leased departments, declined by 1.7% and 0.4% on a year-over-year basis and quarter-over-quarter basis.
In the next part, we'll discuss other initiatives by Macy's to boost same-store sales.