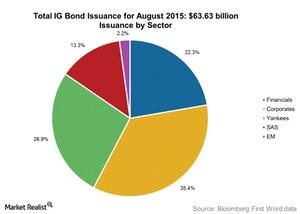 August 2015's Top High-Grade Bond Issuers
August recap: Deals overview
US corporates were the highest issuers of high-grade bonds in August 2015, making up 35.4% of all issues. Yankee bond issuers came in second with issuance worth $17.1 billion, or 26.9% of total issuance. Meanwhile, US financials accounted for 22.3% of all issues.
The month ended August 2015 brought the year-to-date issuance volume of corporate high-grade bonds to $1.095 trillion.
Issuance by high-grade corporates was part of the Vanguard Total Bond Market Index Inv (VBMFX). Treasuries—the other high-grade bond category—are tracked by mutual funds like the PIMCO Total Return A (PTTAX).
Article continues below advertisement
Top issuers in August 2015
Celgene Corporation (CELG) issued bonds worth $8.0 billion on August 3. It's a global biopharmaceutical company that focuses on the discovery, development, and commercialization of products for the treatment of cancer and other severe, immune, inflammatory conditions.
HSBC USA (HSBC), through its subsidiaries, provides commercial and consumer banking services. It issued bonds worth $2.7 billion on August 4, making it the second-highest issuer of high-grade bonds.
ING Bank NV (ING) issued bonds worth $2.5 billion on August 10. ING is a global financial institution offering banking services to individuals, families, small businesses, large corporations, institutions, and governments.
McGraw Hill Financial (MHFI) issued bonds worth $2.0 billion on August 13. McGraw Hill Financial is a leader in credit ratings, benchmarks, and analytics for the global capital and commodity markets.
BNP Paribas (BNPQY) issued bonds worth $1.5 billion on August 12. BNP Paribas is headquartered in Paris. It provides commercial and retail banking services to its clients. It has a network of 150 business centers in 23 European countries.
In the next part of this series, we'll look at investment-grade bond fund flows.