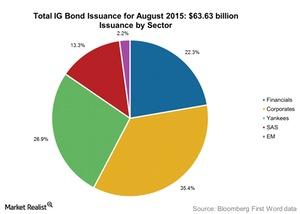 August 2015's Top High-Grade Bond Issuers
By Lynn Noah

Updated
August recap: Deals overview
US corporates were the highest issuers of high-grade bonds in August 2015, making up 35.4% of all issues. Yankee bond issuers came in second with issuance worth $17.1 billion, or 26.9% of total issuance. Meanwhile, US financials accounted for 22.3% of all issues.
The month ended August 2015 brought the year-to-date issuance volume of corporate high-grade bonds to $1.095 trillion.
Issuance by high-grade corporates was part of the Vanguard Total Bond Market Index Inv (VBMFX). Treasuries—the other high-grade bond category—are tracked by mutual funds like the PIMCO Total Return A (PTTAX).
Article continues below advertisement
Top issuers in August 2015
In the next part of this series, we'll look at investment-grade bond fund flows.