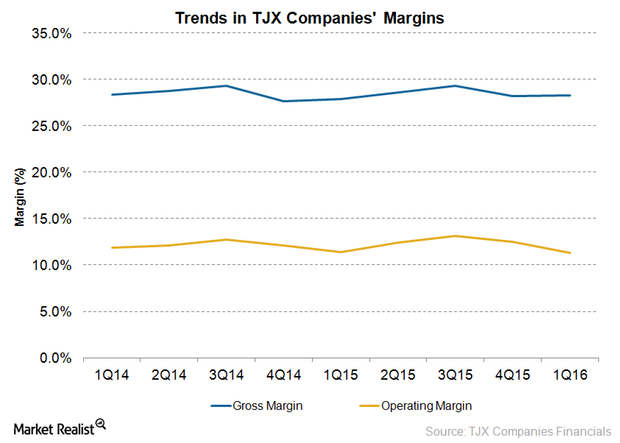 Why TJX Companies' Margins Could Be under Pressure in 2Q16
Subdued expectations
TJX Companies (TJX) expects its gross margin for the second quarter of fiscal 2016 to come in the range 28.5% to 28.6% range. This reflects flat-to-10-basis-point decline compared to the gross margin in the comparable quarter of the previous year.
Article continues below advertisement
Reasons behind the subdued expectations
The company's subdued expectations for its gross margins in 2Q16 takes into account the impact of currency headwinds and increased supply chain costs. However, the company expects improved merchandise margins in 2Q16.
Also, TJX Companies' operating margin in 2Q16 might be affected by a rise in selling, general, and administrative costs (or SG&A) as a percentage of sales. The company expects SG&A as a percentage of sales in the 17.1%-to-17.2% range, compared to 16.2% in the comparable cost of the previous year.
Margins in the previous quarter
TJX Companies' gross margin improved by 40 basis points to 28.3% in 1Q16, which ended on May 2, 2015. The increase was driven a strong merchandise margin. Operating margin in 1Q16 declined to 11.3% from 11.4% in the comparable quarter of the previous year. Operating margin was adversely affected by increased employee payroll costs, higher pension costs, and incremental investments. Currency headwinds related to the European business also affected TJX Companies' margins in the previous quarter.
Peer performance
Ross Stores (ROST) reported an operating margin of 15.7% in 1Q16. The operating margins of department stores like Macy's (M), Nordstrom (JWN), and Kohl's (KSS) came in at 6.6%, 7.6%, and 6.8%, respectively, in the comparable first quarter.
The higher operating margins enjoyed by off-price stores like TJX Companies and Ross Stores are a result of their lean and flexible business models, low-cost structures, and efficient inventory management systems.
TJX Companies and Ross Stores together account for ~0.8% of the First Trust Consumer Discretionary AlphaDEX Fund (FXD).