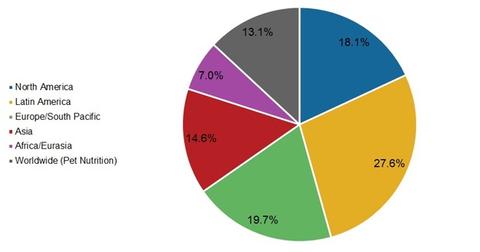 Colgate Is Eyeing Huge Opportunities in Mature and Emerging Markets
By Penny Morgan

Jul. 29 2015, Updated 11:06 a.m. ET
Overview of Colgate's geographic presence
Colgate (CL) markets its household products in more than 200 countries and territories. ~77% of Colgate's revenue was generated from markets outside the US in 2014.
Over 50% of Colgate's revenue comes from emerging markets like Latin America, Asia (excluding Japan), Africa/Eurasia, and Central Europe.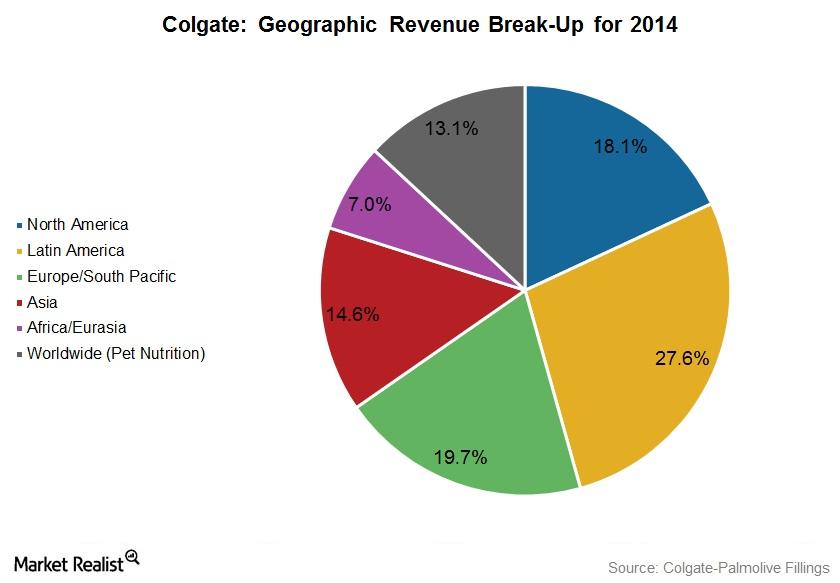 Article continues below advertisement
Growing international markets
From the above chart, we can see that Latin America contributes the most to Colgate's revenue. It was also the fastest-growing region in terms of sales, with an organic sales growth rate of 9% in 2014. In Brazil, the market share for toothpaste reached 72.1% in December 2014. This was the highest share in the past 18 years.
Geographic profitability
Colgate's operating margins of 29.6% in North America were the highest among all regions. Asia followed, clocking an operating income margin of 29.3% in 2014. In Latin America, the operating income margin came in at 26.8% in 2014. Higher margins were driven by cost savings.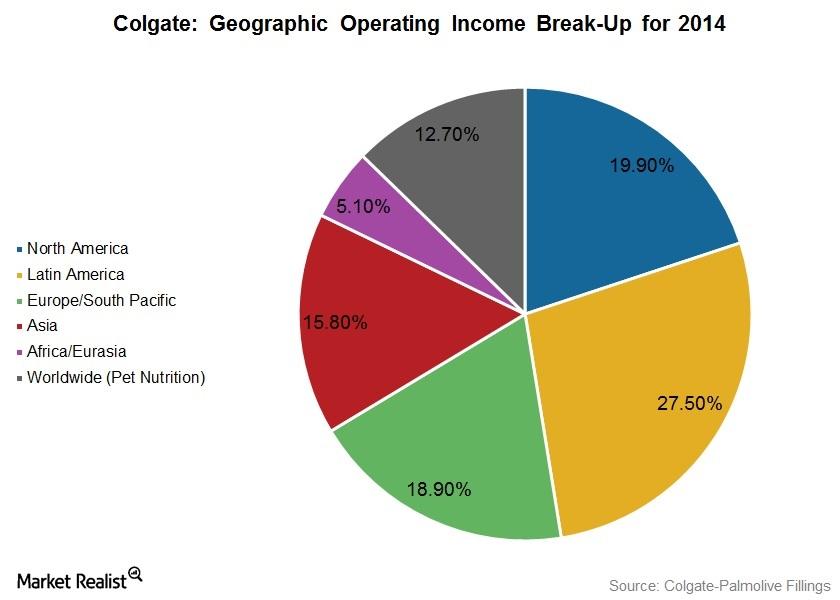 Article continues below advertisement
Oral care dominance
In Asia, Colgate's oral care business comprised ~86% of the total region's sales in 2014.
In India alone, Colgate's market share increased to 54.4%, which was up 30 basis points in 2014. This was primarily due to an increase in Colgate's brand popularity versus local toothpaste brands like Dabur Red and international competitors like Oral-B (PG), Close-up, and Pepsodent (UL).
Also, the mouthwash market share increased to 27.5% in Russia on strong sales of the Colgate Altai Herbs mouthwash.
International opportunity set
Colgate believes growth opportunities are greater in those areas of the world in which economic development and rising consumer incomes expand the size and number of markets for its products.
Colgate aims for expansion in developing markets like India, China, and Brazil. It also hopes for improved efficiency as basic infrastructure improves in these markets.
Colgate also looks strong in establishing commercial hubs in mature markets like North America and Europe, as these markets have the necessary facilities, which helps in cost savings.
The iShares S&P 100 ETF (OEF) and the iShares Core S&P 500 ETF (IVV) provide exposure to Colgate with 0.5% and 0.3%[1. Updated as on July 15, 2015] of their respective portfolio weights.