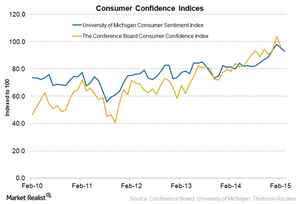 Consumer Sentiment Is down in March after 11-Year High
By Sirisha Bhogaraju

Dec. 4 2020, Updated 10:52 a.m. ET
Consumer confidence
Consumer spending levels on discretionary (XLY) goods is influenced by their confidence in the economic conditions. There are two indices that help in gauging consumers' confidence in the economy:
the University of Michigan Consumer Sentiment Index
the Conference Board Consumer Confidence Index
Article continues below advertisement
Consumer sentiment down in March
The consumer sentiment index (or CSI) is published by the University of Michigan and Thomson Reuters. It is based on 500 telephone household interviews. According to the latest data released on March 27, 2015, the CSI for March 2015 declined to 93 from 95.4 in the month of February due to slightly higher gas prices and bad weather. After reaching an 11-year high of 98.1 in January 2015, the index declined in February.
Consumer Confidence Index
The Consumer Confidence Index (or CCI) is based on a survey of 5,000 households and is conducted by Nielsen on behalf of the Conference Board. The CCI, which relies on opinions on both current conditions as well as expectations of future conditions, is usually more volatile than the CSI.
The CCI declined to 96.4 in February 2015. This compares to a 11.5% surge in the Index to 103.8 in January 2015 compared to December 2014. According to the Conference Board, consumers were less optimistic in February about the short-term outlook. The percentage of respondents expecting business conditions to improve over the next six months was down to 16.1% from 18.9% in January. The respondents expecting business conditions to worsen increased to 8.7% from 8.2%.
 Will this impact department stores?
Consumer confidence impacts the spending on discretionary products (XLY) (RXI) more than the spending on staples (XLP) like food and beverages. The SPDR S&P 500 ETF (SPY) invests 12.6% in the consumer discretionary sector and 9.7% in consumer staples. The iShares Russell 1000 Growth ETF (IWF) has 18.7% exposure to the consumer discretionary sector and 10.6% exposure to consumer staples.
Lower consumer confidence may negatively impact companies in the retail (XRT) sector, like J.C. Penney (JCP), Nordstrom (JWN), TJX Companies (TJX), and Macy's (M). Consumer confidence is also impacted by the level of unemployment in the economy.