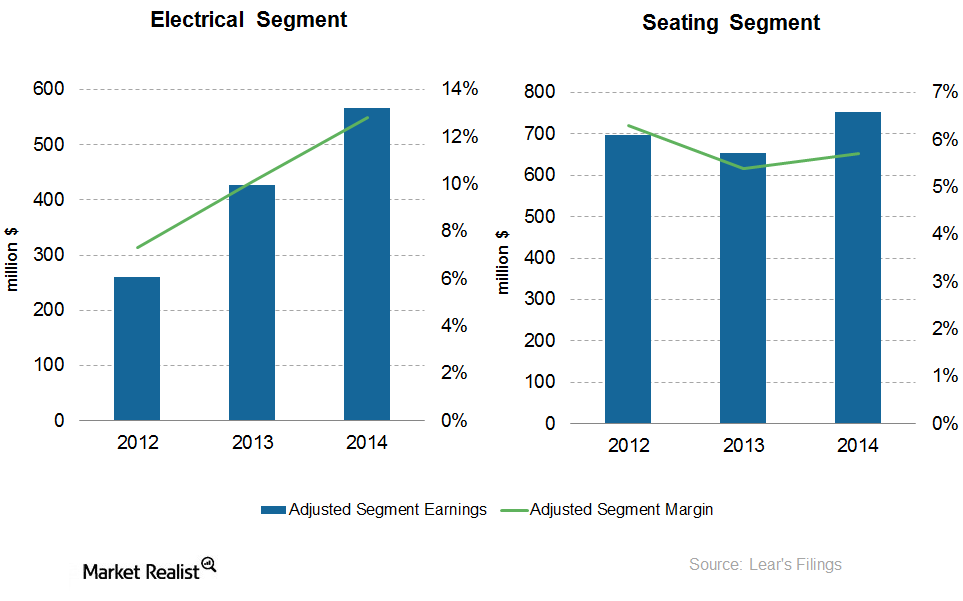 Lear's margins beat expectations in both of its segments
By Santiago Solari

Feb. 16 2015, Updated 3:05 p.m. ET
Margin improvement in both segments
Lear's core unadjusted operating earnings, or earnings before interest and taxes, increased by 26% to $929.2 million, representing a 70 bps (basis points) YoY (year-over-year) improvement in margin terms to 5.2%. The uptick in operating profitability was due to higher sales volumes coupled with reduction in average total costs.
The company's seating segment's EBIT (earnings before interest and taxes), adjusted for restructuring and other non-recurring expenses, increased 15% YoY to $752.4 million. The company's operating profitability as measured by EBIT margin improved by 30 bps to 5.7% for the seating segment. The segment's operating earnings were positively impacted by a higher mix of premium seating content for SUVs and luxury vehicles, which resulted in higher profit margins.
For the electrical segment, operating profit in terms of EBIT increased by 33% YoY to $567.1 million and the segment's EBIT margin was up 270 bps YoY to 12.8%, reflecting operational efficiencies.
Article continues below advertisement
Earnings surpass expectations
On a GAAP (generally accepted accounting principles) basis, net income was up to $672.4 million from $431 million a year ago. Diluted earnings per share increased to $8.23 compared to $4.99 in 2013.
Net income on a non-GAAP basis increased by $155.9 million from the previous year to $665.9 million in 2014 and non-GAAP EPS (earnings per share) were $8.15 versus $5.90 in 2013. Adjusted net income well surpassed management's upper end forecast of $595 million.
Key ETFs
Lear (LEA) has an allocation of 1.40% in the First Trust Consumer Discretionary Alpha Fund ETF (FXD), a 0.30% portfolio weight in the Vanguard Consumer Discretionary ETF (VCR), and a 0.54% allocation in iShares Morningstar Mid Core Index ETF (JKG).
The top five holdings of the iShares Morningstar Mid Core Index ETF in the broad consumer discretionary sector, which Lear belongs to, include Whirlpool (WHR), which accounts for 1.04% of the portfolio, Genuine Parts Company (GPC) at 0.93%, Carmax (KMX) at 0.88%, Royal Caribbean Cruises (RCL) at 0.79%, and GAP (GPS) at 0.70%.