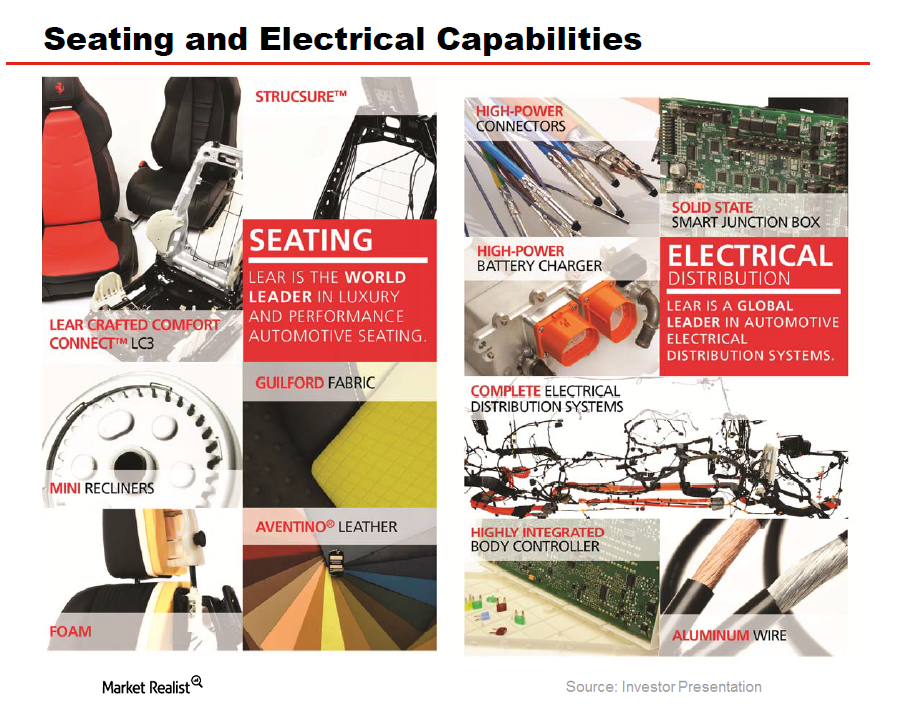 Lear: A global leader in automotive seating and electrical systems
By Santiago Solari

Feb. 13 2015, Updated 1:06 p.m. ET
Snapshot of Lear's seating segment
Lear (LEA) has a strong market position in providing automotive seat systems, as it is one of only two primary independent suppliers with global scale and complete component capabilities. The other company is Johnson Controls (JCI).
Accounting for ~75% of annual revenues, the seating segment consists of the design, engineering, just-in-time assembly, and delivery of complete seat systems. Also Lear manufactures major seat components, such as seat structures and mechanisms, seat covers, and headrests. The company develops seat systems and components for an array of vehicle models, ranging from compact cars to SUVs.
Article continues below advertisement
The principal raw materials in Lear's seat systems are steel, foam chemicals, leather hides, and yarn, which are generally obtained via long-term supply contracts. Lear has a good degree of bargaining power, as it has the right to terminate these contracts at its discretion if the supplier is not competitive in terms of cost, quality, delivery, technology, and customer support.
Product standardization strategy
The company has been pursuing vertical integration opportunities by stretching its operations into areas such as precision cutting, assembly, sewing, and fabric in emerging markets, and by developing leather finishing capabilities globally. This is consistent with the company's product standardization strategy that permits Lear to effectively defend its market position and provide quality products at a lower total cost.
Article continues below advertisement
Electrical segment
Lear is one of four suppliers with a global capability for delivering electrical distribution systems and components for traditional as well as hybrid and electric vehicles. Its products effectively integrate a vehicle's entire electrical distribution system, comprising wiring, junction boxes, terminals and connectors, and electronic modules. The company's Solid Stat Smart Junction Box is an optimally integrated electrical distribution system that delivers a 70% reduction in packaging size and a 35% reduction in wire gauge.
Although this segment currently contributes to only 25% of sales, it offers great growth opportunities, as increased consumer demand, electronically controlled functions, and requirements for greater fuel efficiency, are driving an increase in electrical content in vehicles.
As the company's electrical segment is more technology driven, the company's primary costs are related to the labor-intensive assembly process, which the company often outsources to low-cost economies like China, Brazil, Africa, Brazil, the Philippines, and Thailand, which allows this segment to generate higher profit margin. Due to the technology-intensive nature of this segment, capex as a percentage of sales is higher than in the company's seating segment. The ratio in the electrical segment is ~3.8% and 2.4% in the seating segment.