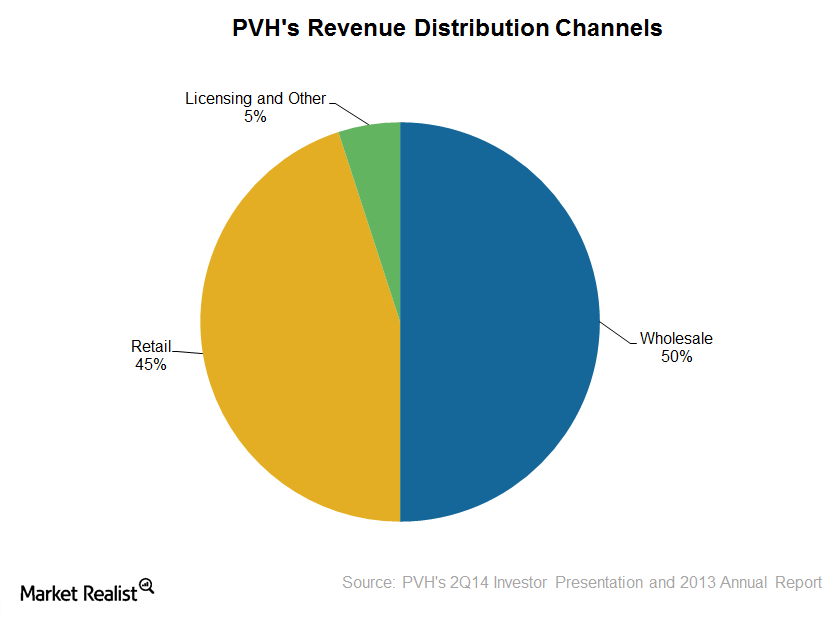 What investors need to know about PVH's operations
Design and product sourcing
Luxury apparel companies, like PVH Corp. (PVH), focus on innovation to differentiate themselves from private-label players. As a result, the in-house design team's strength is crucial.
PVH's major brands are Calvin Klein and Tommy Hilfiger. Together, they formed 76% of the company's $8.2 billion revenue in 2013. They contributed to ~85% of the company's operating profit. The design team focuses on qualities that are unique to these brands. It studies consumer taste and lifestyle trends during a particular selling season.
Article continues below advertisement
Although there are enough suppliers to address PVH's production needs, the company's Tommy Hilfiger division sources nearly 54% of its raw materials from Li & Fung. Its raw materials include fabric, buttons, thread, labels, and similar materials. A sizable portion of PVH's products are produced by independent manufacturers located in the Indian subcontinent—due to low-cost labor and production opportunities.
The company's products have two major selling seasons—spring and fall. The design to finished product process spans six to ten months before each retail selling season.
Balance between the retail and wholesale channels
The company distributes products through wholesale, retail, and licensing channels. As indicated in the above chart, PVH generates ~50% of its revenue through wholesale distribution. It generates ~45% of its revenue through the retail channel. The remaining 5% comes from licensing and other sources.
Its retail revenue is derived from company-operated retail stores across the world and its e-commerce website for North American customers. Wholesale revenue is generated by marketing its products to department and specialty stores—like Macy's (M), J.C. Penney (JCP), and Hudson's Bay (HBC). Licensing revenue is generated in the form of royalty revenue. It's charged for third parties to use the company's brands.
Article continues below advertisement
Historically, wholesale represented a larger chunk of business for luxury apparel companies. However, operators within the industry—including PVH, Ralph Lauren (RL), and Michael Kors (KORS)—are focusing on the retail side of their business too. Through retail operations, an apparel company gets to generate higher margins by cutting the middlemen and selling direct.
ETF investors seeking to add exposure to PVH can consider the SPDR S&P 500 ETF (SPY). It holds 0.05% of its portfolio in PVH. The Consumer Discretionary SPDR (XLY) has 0.41% of its portfolio invested in PVH.
When this post was originally published, it mistakenly indicated that Tommy Hilfiger sources nearly 54% of its raw materials—without naming Li & Fung in the same sentence. We have since updated the post to indicate that Tommy Hilfiger sources nearly 54% of its raw materials from Li & Fung. We regret this error.