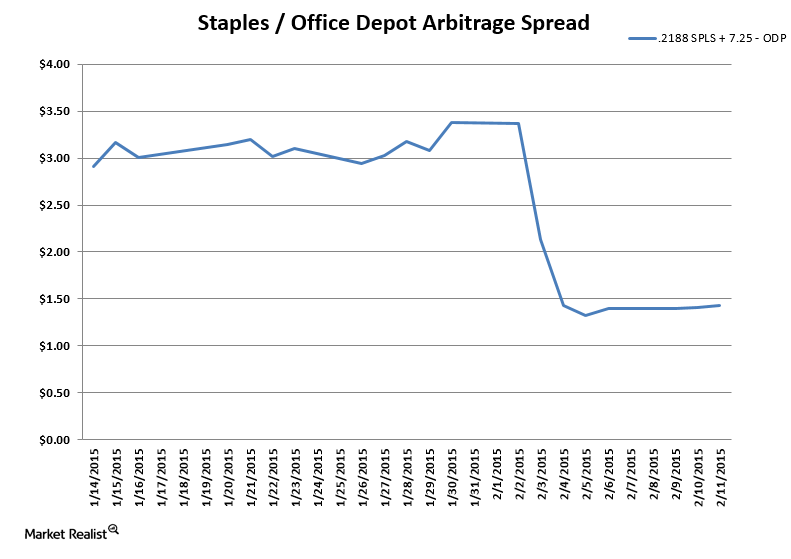 Handicapping the risk-reward balance of the Office Depot deal
By Brent Nyitray, CFA, MBA

Feb. 20 2015, Updated 9:05 a.m. ET
Scenario analysis is a key part of merger arbitrage
So, we know that the annualized spread in the Office Depot (ODP)–Staples (SPLS) deal is just about 15.5%—provided that everything happens according to plan. In the risk arbitrage world, a 15.5% spread means a deal with a lot of "hair" on it. The market is telling you that there are major, major issues with the transaction.
Generally speaking, your base-case assumption has to be that the Staples–Office Depot deal closes as advertised and that you earn the spread. After all, a merger agreement is a contract. If Staples tries to walk away without a MAC (material adverse change) occurring, Office Depot could sue them and demand specific performance.
Article continues below advertisement
What's your downside if the deal breaks?
Before the deal, Office Depot was trading at $7.60 per share. Depending on why the deal breaks, the stock will probably end up there. If it breaks because of bad news out of Office Depot—for example, accounting problems—then the pre-deal downside is probably a best-case scenario. In contrast, if it breaks due to regulatory problems, then that's probably a safe bet.
Staples stock was up on the announcement, and the analyst community understands the pressure this segment is under. At any rate, there is no Staples vote required
Look at the above graph and imagine you're short the spread. If the deal closes, the spread goes to zero and you make about $1.50. However, if the deal breaks, you end up having to cover around $3.00 or so. So, the risk-to-reward ratio is $3 down to $1.50 up. It's a risk-to-reward ratio of 2:1. As a general rule, 2:1 risk-to-rewards are reserved for problematic transactions, so this indicates the market is factoring in major deal risk.
Other merger arbitrage resources