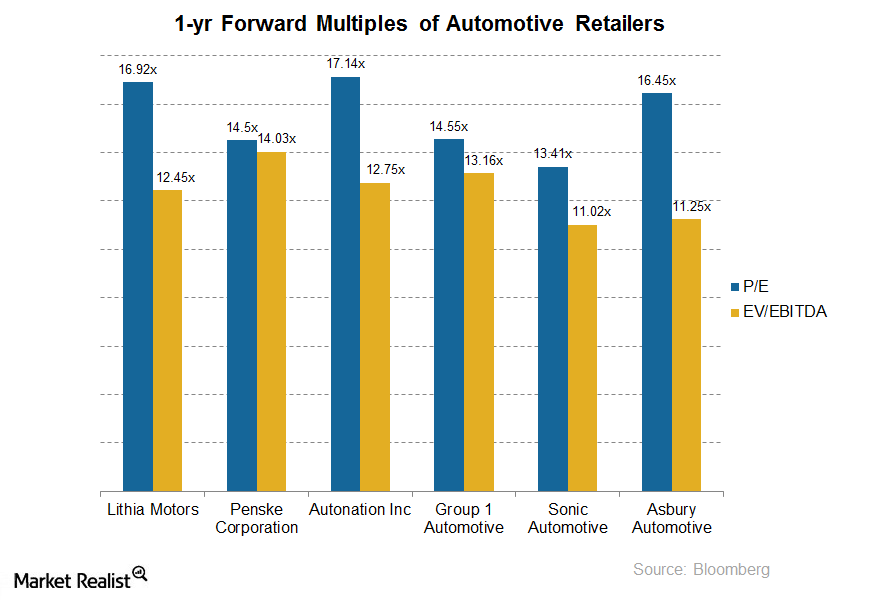 Outlook and valuation of Lithia Motors
By Santiago Solari

Jan. 23 2015, Published 3:24 p.m. ET
Full-year guidance for 2015
As we discussed earlier in this series, automobile sales and unit prices are expected to be at healthy levels in 2015, which bodes well for auto retailers such as Lithia Motors (LAD). Management expects to close out 2014 with revenues in the range of $5.2–$5.4 billion and expects diluted its earnings per share (or EPS) to be in the range of $4.86–$4.88.
For 2015, total revenues would increase to $7.4–$7.6 billion as DCH Auto Group fully integrates into Lithia's business structure. New and used vehicle sales are projected to increase by 6.5% and 10.5%, respectively, on a same-store basis. The service and parts business is projected to increase 8.0% on a comparable store basis. EPS is projected to be around $5.6–$5.8 in 2015. Free cash flow is expected to improve by $67 million to $155 million after providing for capital expenditure (or capex) of $80 million.
Article continues below advertisement
Lithia appears fairly valued
Lithia Motors (LAD), Penske (PAG), Autonation (AN), Group 1 (GPI), Sonic Automotive (SAH), and Asbury Automotive Group (ABG) all operate in the highly fragmented automotive retail industry. These companies have similar business models, differing only in terms of geographic footprint and brand mix.
Because automobile retailers typically have considerable debt on their books, relative valuation using EV/EBITDA (or enterprise value to earnings before interest, tax, depreciation, and amortization) multiple is more appropriate as it removes the effect of financial leverage. Lithia trades at a forward EV/EBITDA multiple of 12.45x, which is fairly close to the peer group average of 12.44x.
Analyst ratings
Morgan Stanley analysts upgraded Lithia Motors to overweight from underweight, following a sell-off resulting in a ~30% drop in Lithia's share price. The investment firm believes the execution risk of the DCH Auto Group acquisition has already been priced in, and it assigned a target price of $75 for the auto retailer.
In June 2014, KeyBanc assigned a buy rating with a target price of $103. Lithia's shares now trade at $81.25, up 27% from its sell-off–driven low of $64.01 on October 13, 2014.