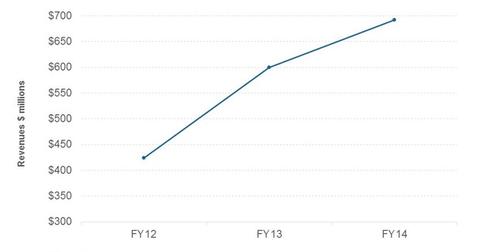 Future Growth In Luxury Brands Is All About The Men
By Phalguni Soni

Jan. 20 2015, Updated 8:51 a.m. ET
The opportunity
Men's spending on fashion and luxuries has outpaced that of women for the past few years. The growth in and availability of online products have cemented this trend, as men are typically averse to long shopping trips to the mall. Rising incomes, a general demographic trend to marry later in life, and high demand from newer markets including China and the Middle East are some of the factors driving higher luxury spending by men in recent years.
Article continues below advertisement
The global market for premium handbags and accessories is estimated to be worth $40 billion, of which men's products account for ~18%, or $7 billion. A 2014 Bain & Company study notes that the global accessories market, the men's bags and menswear segments in particular, is likely to experience great momentum going forward.
Some of the world's leading luxury (XLY) brands including Ralph Lauren (RL), Prada (PRDSY.PK) (1913.PK), Hermes (RMS.PA), Gucci, and Dolce & Gabbana are already capitalizing on this opportunity by opening men's-only stores.
Coach menswear products
Men's products accounted for $691 million or 14% of Coach's (COH) revenues in fiscal year 2014.[1. Fiscal year ending June 28, 2014] That's up from 9% of sales in fiscal 2012. Coach is targeting revenues of $1 billion in this segment by fiscal 2017, a CAGR (compounded annual growth rate) of almost 13%.
Initiatives
The company plans to achieve this goal by opening new men's-only stores, as well as by converting some of its existing stores into dual-gender stores. Dual-gender stores could also help optimize store profitability, which is one of the company's transformation objectives. Between the end of fiscal 2012 and fiscal 2014, the company opened ten new men's-only outlet stores.
Coach also launched a new footwear line for men in the fall of 2014, as part of its initiatives to expand product offerings for men. Initially, the company plans to offer these products in 50 stores.