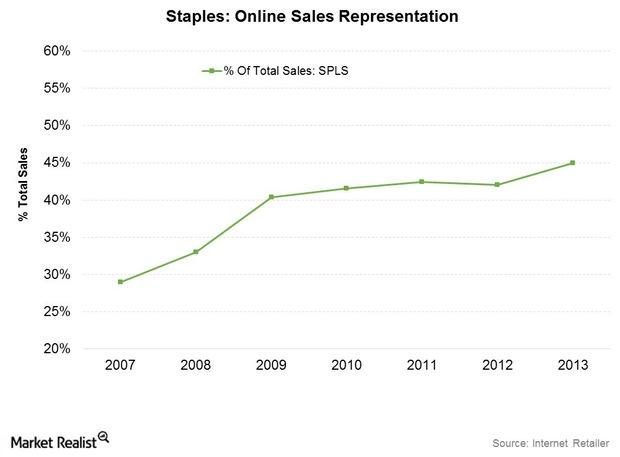 Staples Is Enhancing Its E-Commerce Presence
By Phalguni Soni

Dec. 26 2014, Updated 8:19 a.m. ET
SPLS's online sales
Staples (SPLS) had increased e-commerce sales from $5.6 billion in 2007 to $10.4 billion in 2013. As a percentage of the total, web sales increased from ~29% in 2007 to ~45% in 2013—according to Internet Retailer. In 2008, the company acquired Corporate Express, Inc. This helped it to grow its e-commerce base.
Article continues below advertisement
Technical enhancements
SPLS improved and enhanced its e-commerce platform. In 2012, SPLS launched Velocity Lab in Massachusetts. It was aimed at innovation in e-commerce. In Seattle, its Development Center develops next-generation digital platforms, personalization, and big data research. This would be applied in 26 countries.
Runa acquisition
In 2013, SPLS purchased San Mateo-based Runa for an undisclosed amount. Runa is a startup software company. It helps drive e-commerce sales by personalizing the shopping experience.
Runa is an important e-commerce enhancement for SPLS. It tracks online shoppers' behavior on websites. It provides personalized deals to them in real-time. It also provides real-time delivery estimates. The delivery estimates are tailored to individual customers. The objective would be to drive higher online sales from each site visitor.
Article continues below advertisement
"Runa has a unique platform and outstanding talent with experience in e-commerce and online marketplaces," said Ronald Sargent, chairman and CEO of Staples. "With Runa, we're adding technology to better serve our customers with personalized items, offers, and delivery estimates, all in real-time. Runa will allow us to tap into the wealth of engineering and e-commerce expertise in the Silicon Valley area."
The first versus the third player
SPLS's sales tilt is shifting more to e-commerce than to brick-and-mortar. SPLS also increased its quantum and the breadth of its product offering from ~100,000 SKUs (Stock Keeping Units) at the beginning of 2013 to over one million in 2014—we discussed this in the last part of this series. This is SPLS's attempt to challenge the top e-commerce player—Amazon (AMZN).
In 2013, RadioShack (RSH) and SPLS ended a year-long trial of hosting AMZN lockers at their retail outlets. These lockers would allow customers to collect deliveries of AMZN products. They hadn't been able to do this when they weren't at home. Retail outlets would benefit from higher foot traffic at stores. AMZN benefited from the logistics standpoint.
Article continues below advertisement
However, the same-store sales characteristic declined in the office supplies industry in recent years. SPLS felt that AMZN was benefiting more from the deal. SPLS ended the deal. AMZN and SPLS are part of the SPDR S&P 500 ETF (SPY), the PowerShares QQQ (QQQ), and the SPDR Consumer Discretionary Select Sector ETF (XLY).
Business-to-business
Competition between the two retailers will likely increase over the critical business-to-business, or B2B, segment. We'll discuss this in the next part of this series.