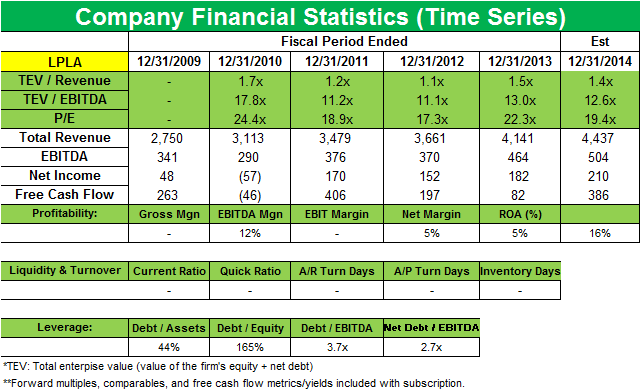 Lone Pine Capital buys a new position in LPL Financial Holdings
By Samantha Nielson

Nov. 20 2020, Updated 1:42 p.m. ET
Lone Pine Capital and LPL Financial Holdings
Lone Pine initiated new positions in Actavis PLC (ACT), LPL Financial Holdings (LPLA), Adobe Systems Inc. (ADBE), Equinix Inc. (EQIX), and Jazz Pharmaceuticals PLC (JAZZ). Top positions the fund sold were Dollar Tree Inc. (DLTR) and American Express Co. (AXP).
Lone Pine initiated a new position in LPL Financial Holdings (LPLA) last quarter that accounts for 1.95% of the fund's total 1Q portfolio.
Article continues below advertisement
The independent broker-dealer LPL Financial provides an integrated platform of proprietary technology, brokerage, and investment advisory services to over 13,700 independent financial advisors and financial advisors at regional and community banks and credit unions across the U.S. It also supports over 4,500 financial advisors licensed with insurance companies by providing customized clearing, advisory platforms and technology solutions. Its revenues derive primarily from fees and commissions from products and advisory services. It also generates asset-based revenues from financial product sponsor relationships, cash sweep programs and omnibus processing and networking services.
The stock rose 66% in 2013. In 4Q 2013 results announced in February, LPL posted a 20% increase in quarterly profit, driven by growing commission and advisory revenue. Net revenue for 2013 was $4,140.9 million, an increase of 13.1% compared to 2012, driven by "advisor productivity and investor engagement, as well as by strong market appreciation." LPL's peers include Ameriprise Financial (AMP), Raymond James Financial (RJF), and RCS Capital (RCAP).
LPL profits fall on increasing costs
Article continues below advertisement
However, the broker-dealer's latest 1Q 2014 results missed on revenue and earnings estimates as spiraling costs led to a 3% decline in profit to $53.1 million. Adjusted earnings grew 4% to $71 million, or $0.69 per share. Net revenue increased almost 12% to $1.09 billion. Management said, "Growing commission and fee-based business led to 12% net revenue growth year-over-year and helped generate record adjusted earnings of $0.69 per share." They added, "After a slow start to recruiting to begin the year, our business development team saw improving conditions in March."
Commission revenue increased 10.1% for the first quarter of 2014 compared to the corresponding quarter the prior year, reflecting an increase in net new advisors and improving commissions per advisor. Advisor productivity was driven by investor engagement, strong market conditions, and relatively elevated levels of alternative investment sales. Advisory revenue increased 16.4% for the first quarter of 2014 compared to the corresponding quarter the previous year, driven by sustained advisor productivity, market appreciation, and net new advisor growth.
LPL sees fine related to supervision of sales of alternative investment products
Article continues below advertisement
Last month, the Financial Industry Regulatory Authority (FINRA) announced that it had fined LPL Financial $950,000 for supervisory deficiencies related to the sales of alternative investment products, including non-traded real estate investment trusts (REITs), oil and gas partnerships, business development companies (or BDCs), hedge funds, managed futures, and other illiquid pass-through investments. As part of the sanction, LPL must also conduct a comprehensive review of its policies, systems, procedures, and training and remedy the failures. FINRA found that from January 1, 2008, to July 1, 2012, LPL failed to adequately supervise the sales of alternative investments that violated concentration limits set for alternative investments.
LPL drives shareholder value by boosting its share repurchase plan
In 2013, LPL, one of the largest independent broker-dealers, said it spent $219.1 million to buy back 5.8 million shares at a weighted average price per share of $37.65. Management said in its 4Q earnings release in January, "In 2013, our record results generated strong excess cash flow, from which we returned $287 million to shareholders through $219 million of share repurchases and $68 million in dividends. We have decided not to pursue a conversion to a bank holding company, preferring instead to retain our capital-light structure and flexibility in our capital deployment. Accordingly, we have raised our quarterly dividend to $0.24 per share and expanded the capacity of our share repurchase plan by $150 million to a total of $218 million."
In 1Q 2014, LPL spent $100.0 million to buy back 1.9 million shares. The board also declared a cash dividend of $0.24 per share.