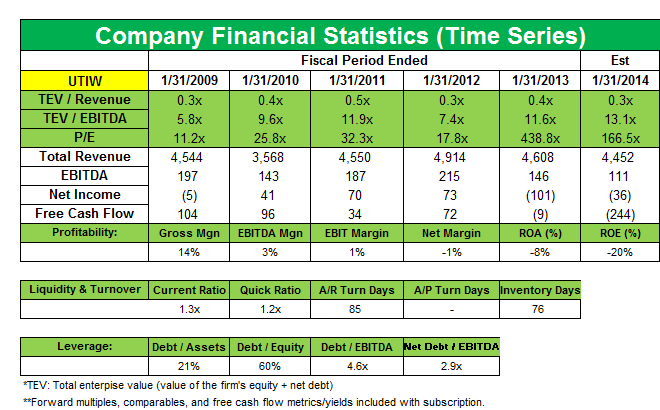 Why did Tiger Global Management decide to exit UTi Worldwide?
By Samantha Nielson

Mar. 17 2014, Updated 12:40 p.m. ET
Tiger Global and UTi Worldwide
Tiger Global started new positions in Restoration Hardware Holding (RH), Vipshop Holdings Ltd (VIPS), Gap Inc. (GPS), sold UTi Worldwide (UTIW), and increased its stakes in Priceline (PCLN) and TransDigm Group Incorporated (TDG).
Tiger Global exited a 0.56% position in logistics company UTi Worldwide (UTIW).
UTi Worldwide is an international, non-asset-based supply chain services and solutions company that provides airfreight and ocean freight forwarding, contract logistics, customs brokerage, distribution, inbound logistics, truckload brokerage, and other supply chain management services. It serves its clients through a worldwide network of freight forwarding offices, and contract logistics and distribution centers.
Article continues below advertisement
Shares plunged last month after UTi Worldwide said it had breached some debt covenants and that it would report a net loss for the fourth quarter due to a lackluster global economy and difficult operating conditions. Competition, a weak air freight market, and a delay in UTi 's transformation plan have impacted the company's earnings. UTi said in an 8K filing that its liquidity and capital resources have decreased significantly over the last several quarters as a result of:
Net losses UTi has incurred,
Capital expenditures associated with its business transformation initiatives,
Severance expenses, and
Recent invoicing delays, primarily in the U.S., in connection with implementing its new freight forwarding operating system and global financial system, which have led to higher than normal receivables and weaker cash collections.
The company disclosed a refinancing plan that includes an offer of $350 million in convertible senior notes. The company will issue $175 million of 7.00% convertible preferred shares to its largest shareholder, P2 Capital Partners, that will increase P2's stake in the company to 18.1%. UTi has also obtained commitments from affiliates of Citigroup Global Markets Inc. and Morgan Stanley & Co. LLC for a new $150.0 million five-year credit facility. The company recently completed the offerings and said net proceeds were approximately $555 million. The company intends to use the net proceeds of the offerings to repay debt and for other general corporate purposes.
The company also forecasted a fiscal fourth-quarter loss of $0.33 to $0.38 a share on a revenue of $1.05 billion to $1.1 billion.
Article continues below advertisement
UTi is undergoing a multi-year, technology-enabled, business transformation initiative. This program is aimed at establishing a single set of global processes and systems for its freight forwarding business and its global financial management. It is designed to increase efficiency through the adoption of shared services. In order to achieve this goal, UTi is deploying enabling technologies to support enterprise master data management, financial management, and freight forwarding operations management.
Chief Executive Eric Kirchner expects freight pricing to continue to be under pressure during the quarter and that this would remain "for the foreseeable future." He said in a release that "The refinancing provides us with greater operating flexibility and allows us to maintain full focus on executing our strategy, achieving value release from our investments and growing ahead of the competition."