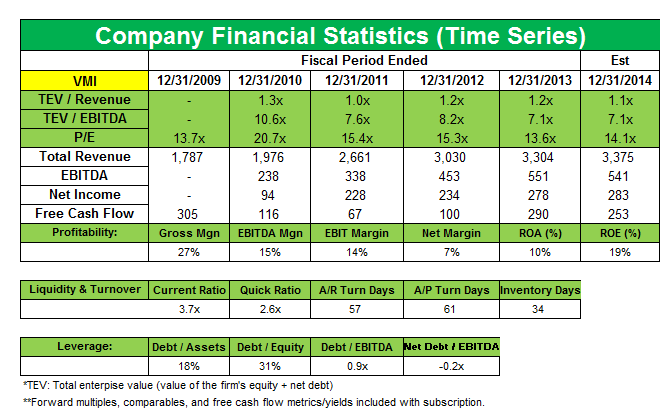 Eminence Capital reveals new share in Valmont Industries
By Samantha Nielson

Mar. 19 2014, Updated 5:00 p.m. ET
Eminence Capital and Valmont Industries

Eminence Capital initiated new positions in The Men's Wearhouse Inc. (MW), KAR Auction Services Inc. (KAR), Humana Inc. (HUM), and Valmont Industries (VMI). The fund exited its positions in Pandora Media Inc. (P) and Tyco International (TYC).
Eminence Capital opened a new position in Valmont Industries (VMI) that accounts for 1.48% of the fund's portfolio.
Valmont is a global provider of engineered products and services for infrastructure and mechanized irrigation equipment for agriculture. The company sells products through four reportable segments. Valmont's products sold through the Engineered Infrastructure Products (or EIP) segment include outdoor lighting and traffic control structures, wireless communication structures and components and roadway safety and industrial access systems. It manufactures steel and aluminum poles and structures to which lighting and traffic control fixtures are attached for a wide range of outdoor lighting applications, such as streets, highways, parking lots, sports stadiums, and commercial and residential developments. The pole structures sold through its Utility segment support electrical transmission and distribution lines and related power distribution equipment. Valmont's Irrigation segment produces mechanized irrigation equipment that delivers water, chemical fertilizers, and pesticides to agricultural crops. Valmont also provides metal coating services, including galvanizing, painting, and anodizing in its Coatings segment.
Customers and end-users of the company's products include state and federal governments, contractors, utility and telecommunications companies, manufacturers of commercial lighting fixtures and large farms, and the general manufacturing sector.
Valmont reported a decline in fourth-quarter profit to $54.87 million, or $2.04 per share, from $65.04 million, or $2.43 per share, in the same period last year. Sales increased to $827.9 million from $815.0 million last year but were below analyst estimates.
Article continues below advertisement
The Utility Support Structures segment, which comprised 32% of total sales in 4Q, saw sales of $264.7 million—5% higher than in 2012. The need to improve reliability by adding physical capacity and increase the interconnectivity of regional transmission grids in North America continues to drive significant utility investments in transmission infrastructure. Further demand comes from renewable energy sources requiring connectivity to the grid. But international sales declined.
Engineered Infrastructure Products sales were $267.2 million—an 8% increase over 2012. The increase was due to the contribution of Locker, an Australian-engineered access systems company acquired in February of 2013, and higher sales of lighting and traffic products in North America.
Coatings segment sales of $85.6 million were 3% higher than last year, driven by performance of Pure Metal, a Canadian galvanizing acquisition completed in late 2012.
Irrigation segment sales of $192.2 million declined 6% from last year's drought-driven record fourth quarter. The shorter selling season plus lower crop commodity prices contributed to the lower orders and sales, as evidenced by a decline in year-end backlogs. Growth continued in international markets.
Shares were down after the company reported a disappointing outlook. It expects 1Q 2014 earnings to be down around 25%, while full-year earnings will be slightly below 2013's $10.97 adjusted diluted earnings per share. Management said in its release, "Last year we had exceptional irrigation results mainly driven by drought. This year's first quarter irrigation results will decline in comparison. In the utility business, we anticipate flat first quarter revenue due to less project activity in international markets. Operationally, severe weather has disrupted production and shipping in some of our facilities. This, plus some pricing pressure, will likely result in reduced first quarter utility profitability."