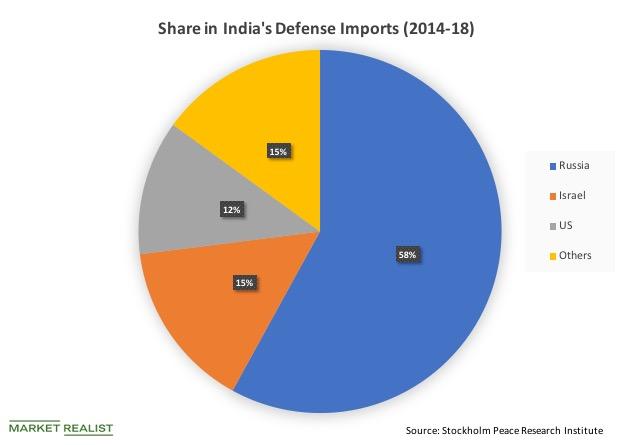 Why Modi's Second Term Is Good News for US Defense Contractors
By Mike Sonnenberg

May. 29 2019, Published 3:26 p.m. ET
Defense spending
As per StockHolm International Peace Institute, India ranked fourth in 2018 in terms of defense spending behind the US, China, and Saudi Arabia. With $66.5 billion in defense spending, India toppled Russia to reach that position in 2018.
In terms of defense imports, India ranks second, only behind Saudi Arabia. Thus, countries and defense companies often lobby to get a larger pie of India's defense spends.
Article continues below advertisement
Rise of nationalism
One of the key points on which Modi campaigned was national security. Not long before the elections, India carried out swift airstrikes on a claimed terrorist base in Pakistan. Modi will very likely use the vast majority in the House of Representatives and the wave of nationalism sweeping the country to upgrade India's defense machinery. Thus, we may see some mega defense deals in Modi's second term.
Competitive business
However, winning India's business is not easy. Traditionally, India has allied more with Russia and less with the US. It was only in the past millennium that India-US relations started taking a concrete shape. Russia remains India's largest defense trade partner followed by the US at a distant second.
However, with sanctions looming over deals with Russia, India says it wants to pivot defense spending to the US. India recently agreed to purchase Russia's S-400 missile defense system in a $5 billion deal, outpacing Lockheed Martin's (LMT) THAAD and Raytheon's (RTN) Patriot System. The sanctions could mean more business from India for Lockheed Martin, Raytheon, and other American defense contractors.
India is also in the process of upgrading its airforce. We expect to see more traction on that front in Modi's second term.