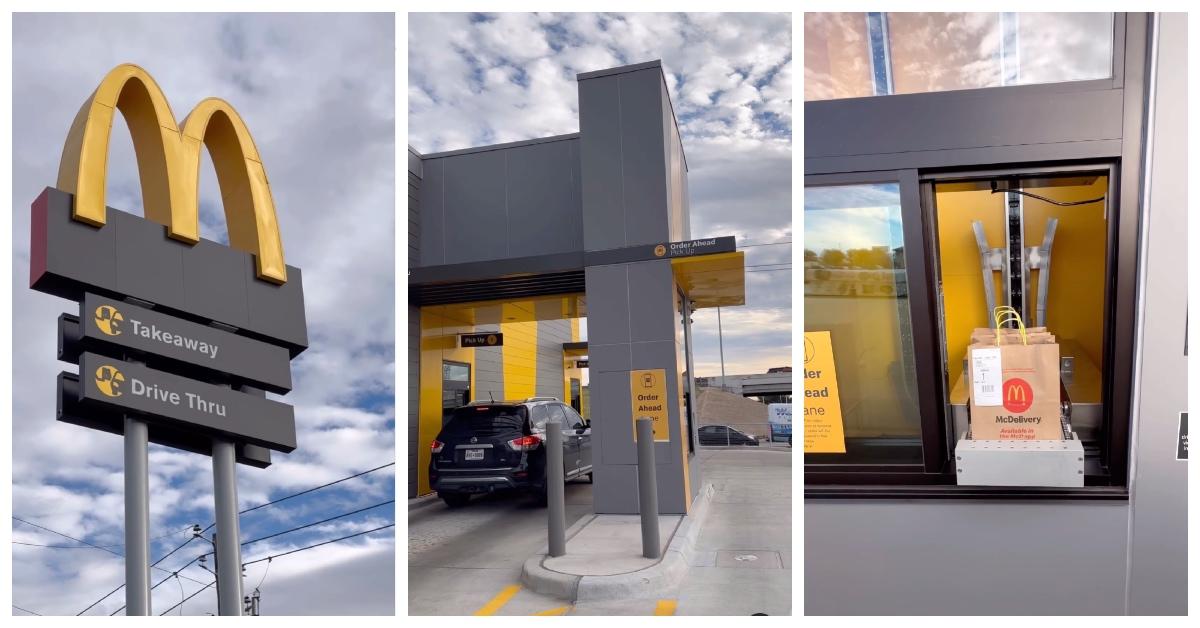 TikToker Shows Off McDonald's Vending Machine Drive-Thru Concept
"It's like no other McDonalds you've been into," according to Foodie Munster
If you're looking for a new fast-food experience, you may just find it at McDonald's. The fast food giant is currently in the process of testing out new drive-thru and pick-up methods at a new restaurant just outside Fort Worth, Texas, and many are comparing it to a vending machine.
Article continues below advertisement
TikToker @foodiemunster recently visited the location, giving his viewers a glimpse into what the future might hold for fast-food establishments. If you want to know more about the McDonald's vending machine drive-thru concept and the key features that set this location apart from all others, you'll have to keep reading!
TikToker shares his experience at McDonald's vending machine-style test location.
Since the COVID-19 pandemic struck, consumers have become more do-it-yourself type of people, for the most part. Between self-checkouts and curbside pickup, there's far less human interaction than there ever was before. And it's about to get worse (or better for some).
Article continues below advertisement
As a way to meet customers' changing needs, McDonald's has decided to implement innovative tactics at a new restaurant positioned just outside of Fort Worth. The location is much smaller than the typical McDonald's location and features an order ahead lane.
Those who order on the McDonald's app can use this lane to pick up their order, which will be delivered to them via a conveyor belt, not by an actual person. All you need to do to get your food is provide the code you received when you placed your order and voila, it should arrive in minutes (hopefully).
Article continues below advertisement
When @foodiemunster visited the test restaurant, he found it to "[work] pretty well" aside from the fact that he had to unbuckle his belt to reach the food.
Article continues below advertisement
McDonald's says its vending machine-like concept is designed for people on the move.
According to a McDonald's press release, the test restaurant is part of the fast-food chain's Accelerating the Arches growth strategy. Its goal? To serve customers "faster and easier than ever before," says Max Carmona, Senior Director of Global Design & Restaurant Development for McDonald's.
In addition to being able to pull up to a drive-thru and grab your food without ever having to speak to a person, the McDonald's vending machine-style test restaurant also allows customers to come inside and place their orders. The test location currently features a kiosk for customers to order from and a window where they can pick it up.
Article continues below advertisement
If all is good, you could place an order from McDonald's without ever having to mouth a single word.
TikTok responds to McDonald's contactless vending machine-style test location.
McDonald's vending machine-like drive-thru concept seems to be getting mixed reviews on TikTok. While some are keen on the idea as they believe it will help speed things up and aid in more accurate orders, others worry about layoffs. Here is a roundup of the comments on @foodiemunster's video that garnered the most likes.
Article continues below advertisement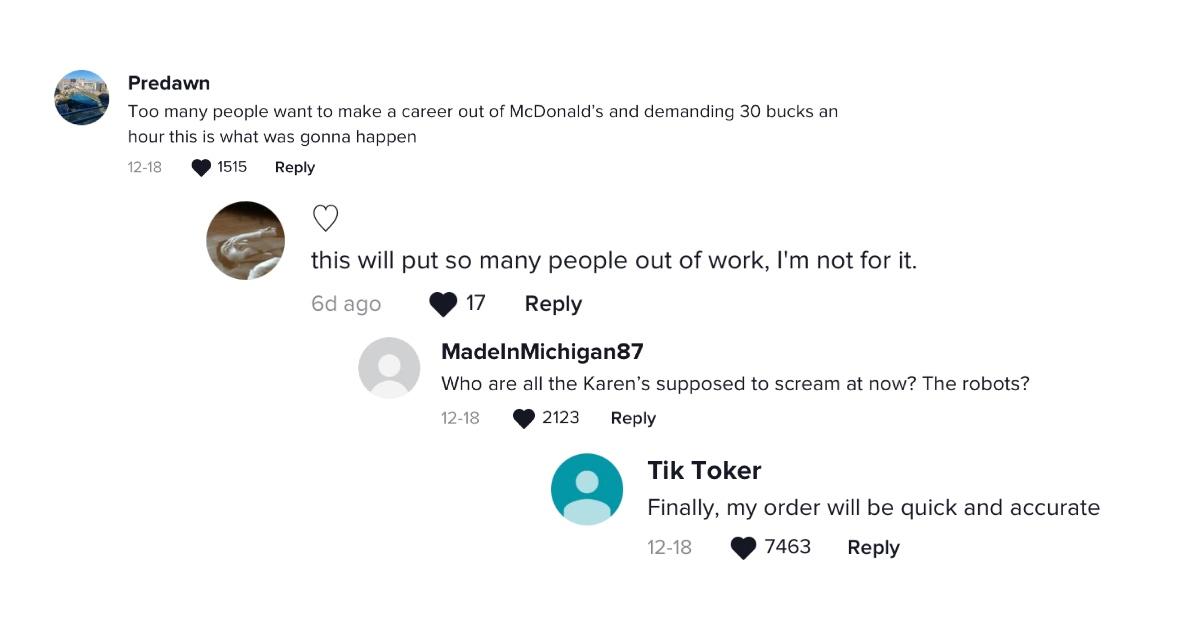 Now, before you get all worried (or excited) about the fast-food chain's new concept, remember, this is just a testing phase. McDonald's could scrap the entire idea or keep a few features it thought worked best. So, until the fast-food giant decides to expand with the idea, only those who visit or live near the Fort Worth area will get to experience it.