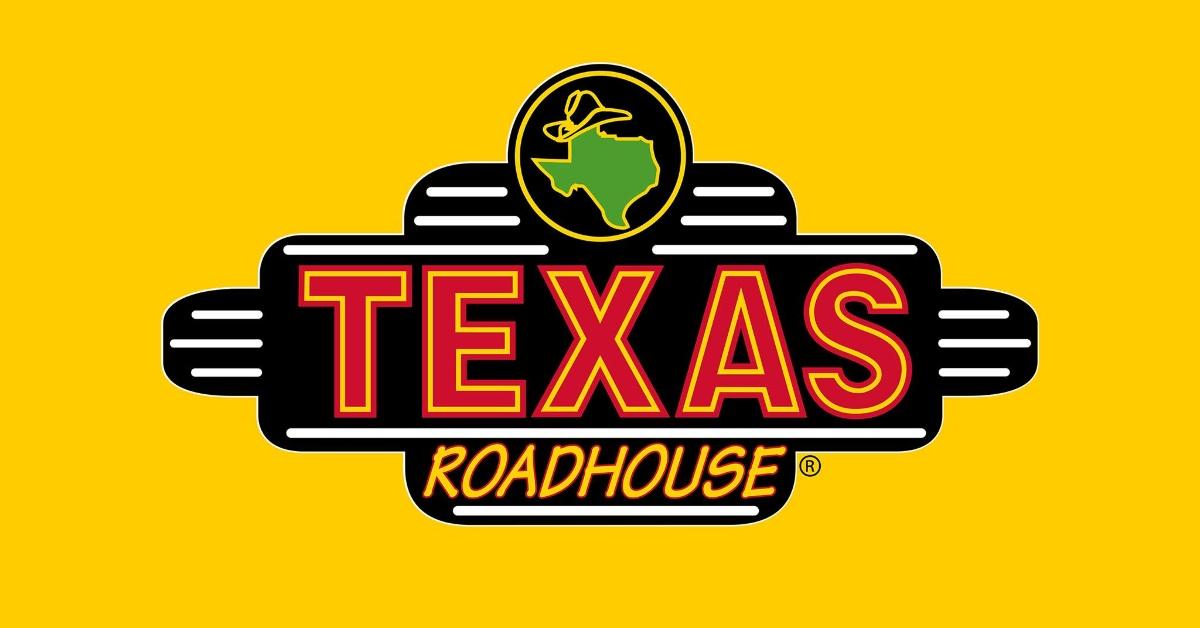 Did You Receive a Voucher From Texas Roadhouse? It Might Be a Scam
If you're a fan of Texas Roadhouse and received a voucher for a free meal via Facebook, you might be the target of a scam. Online criminals are utilizing a number of different strategies to gain access to your personal information and money, including using enticing offers that encourage you to click a link or share a post.
Article continues below advertisement
To help you avoid becoming the next victim of an online scam, read on to learn about the Texas Roadhouse voucher scam and the red flags to look out for.
What's the Texas Roadhouse voucher scam?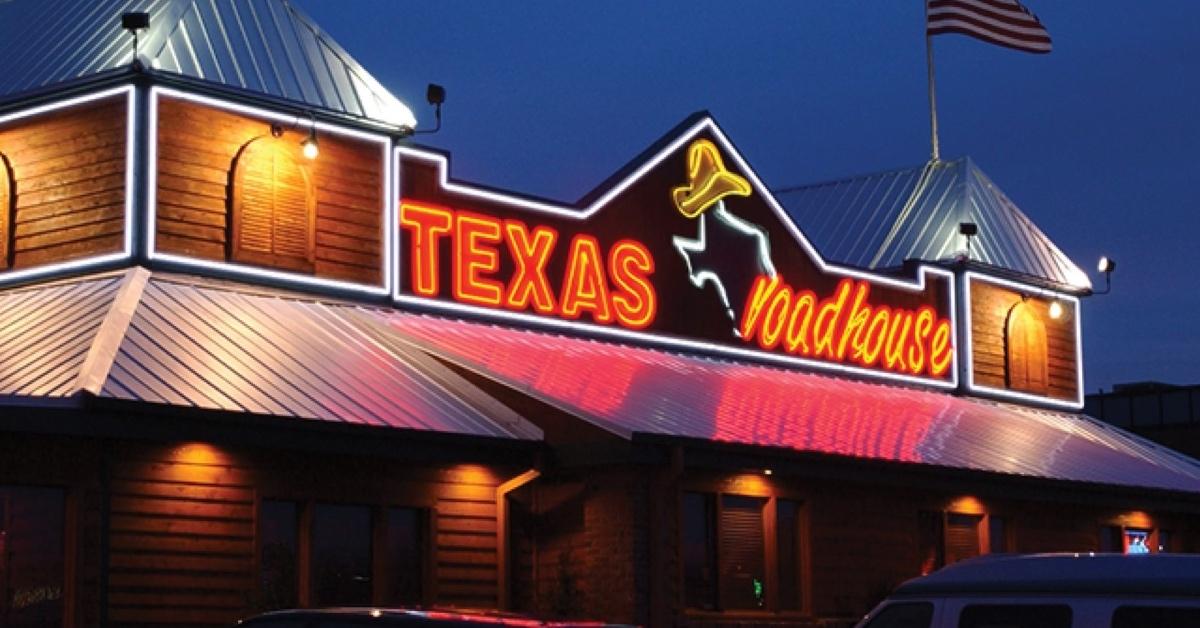 In September 2021, Texas Roadhouse took to Facebook to address a scam that started to circulate on the social media platform. The account behind the scam is reportedly offering Texas Roadhouse meal vouchers along with other benefits to those who share their posts.
Article continues below advertisement
The restaurant chain, which currently has 654 locations spread out over 49 states and 10 foreign countries, said that the impersonator behind the fake account is merely trying to gain access to your personal information. Although news of the voucher scam broke months ago, it appears to still be an issue months later.
Article continues below advertisement
One Facebook user (Eiri Chieko Endo) shared with fellow Facebook members the message she had received in November 2021.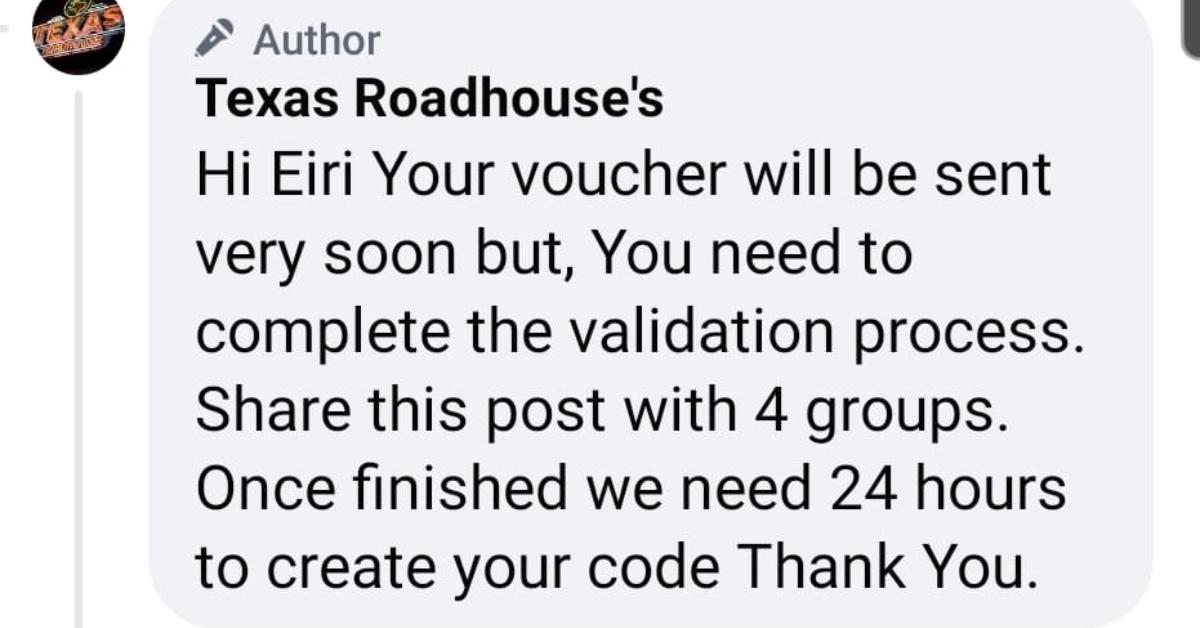 Article continues below advertisement
A few weeks prior to that message, another Facebook user (Linda Taylor) shared a similar message which claimed to be from "Texas Roadhouse CEO Henry J. Rogers."
The message read, "I'm Henry J. Rogers, CEO of Texas Roadhouse. I know times have been a struggle recently so to help everyone out I'll be sending everyone who shares & comments by October 20th 2:30pm a voucher. Each voucher can be used at any Texas Roadhouse to get a Steak dinner for four with drinks included."
Article continues below advertisement
Although scammers have become clever in how they try to access private information, it doesn't carry through in their grammar. In the message highlighted above, not only did we identify a mistake in how the alleged CEO's name was written, but the actual CEO's name was incorrect.
On March 19, 2021, Texas Roadhouse, Inc. announced that it had promoted its President, Jerry Morgan, as the CEO. The change came after the company's founder, CEO, and Chairman of the Board, Kent Taylor passed away. While some Facebook members used the grammatical errors as red flags, others thought that the offer was too generous and ignored it.
Article continues below advertisement
How can users report a fake page to Facebook?
If you've come across an account or page on Facebook that appears to be fake or impersonating a company, you always have the option of reporting them to Facebook. To report a fake account or page to Facebook, follow these steps:
Go to the profile or page of the fake account.
Click the menu button, which sits at the top right corner (the button with three small dots), and scroll down to "Find support or report page."
Follow the on-screen instructions until you've successfully filed your report.
If you're presented with an offer like a free meal voucher from Texas Roadhouse, make sure that it's coming from a reputable source. For example, Texas Roadhouse only posts from its official account, which contains the blue verified checkmark next to its name.
You will also want to be cautious when you receive phone calls, e-mails, or text messages that compel you to respond because they could be scams.