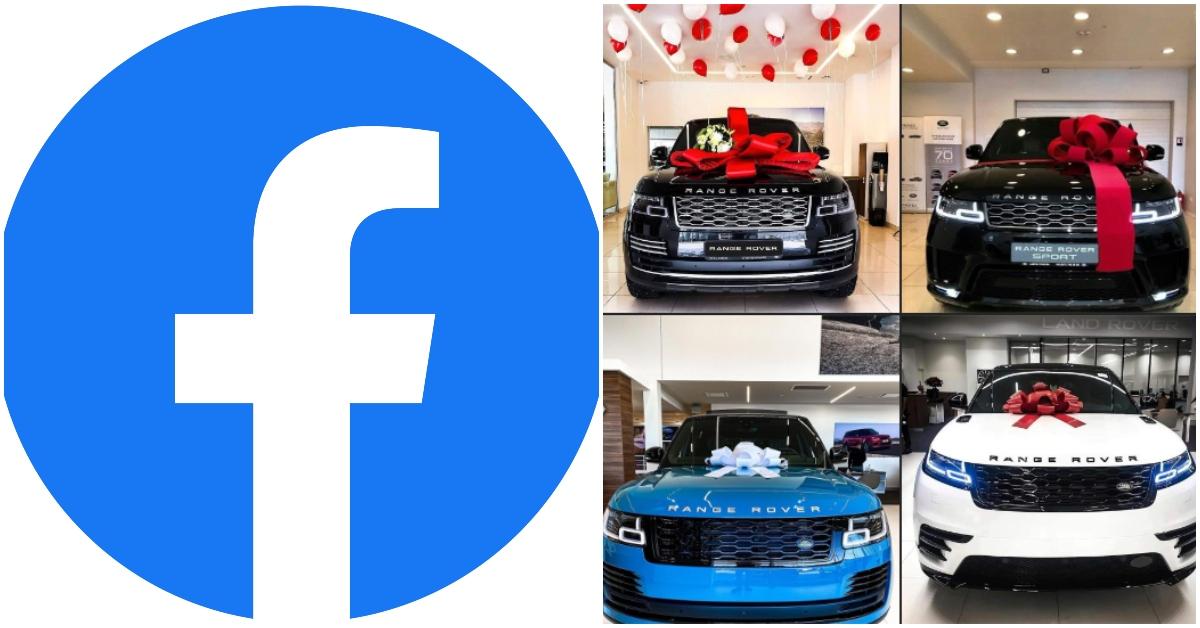 Don't Fall for This Free Range Rover "Giveaway" on Facebook
There is no shortage of scams on Facebook — and the latest one going viral on the social media platform involves a chance to win a luxury vehicle.
Over 30,000 Facebook users have liked a page that promises the chance to win a free Range Rover. If you're one of the unfortunate people who liked this page, we hate to be the ones to tell you that this is another scam giveaway.
Article continues below advertisement
This particular scam has been going around since about 2014 — and the scammers claim to have several new Range Rovers that can't be sold due to minor scratches, so they are giving them away.
Random winners will be selected from the Facebook users who write their favorite color in the comments of the Facebook post.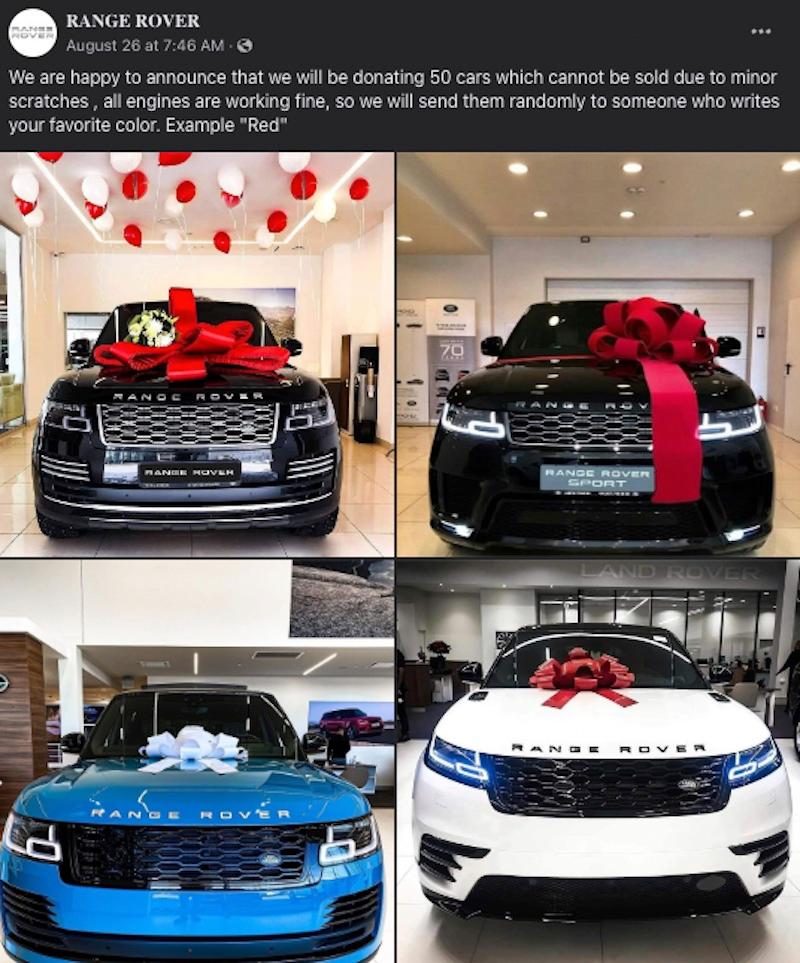 Article continues below advertisement
Once you comment on the color you prefer, the scammers reply that you must "complete the verification process" to be eligible to win a car. The verification process entails sharing the message with eight active Facebook groups where you're a member.
The scammers then claim that it takes 24 hours to confirm the entries.
The latest giveaway scam, posted to Facebook on Aug. 26, has about 1,600 likes, 5,900 comments, and 784 shares from Facebook users worldwide. Users are also directed to a Range Rover public group with over 26,000 members.
Article continues below advertisement

On the Range Rover Facebook post, the scammers also invite people to register on the website, RangeRoverCarUS.blogspot.com, as the last step to becoming a winner.
"After you successfully register yourself, you will immediately win a car and $20,000, if your data is successfully registered, you must win today," the post reads.
Article continues below advertisement
Click the link, and you'll be redirected to a webpage that just says "Congratulations!" at the top, and the rest of the page is blank. We don't suggest you actually click the link... just to be safe.
Giveaway scams are "farming" your personal information.
The chance you will actually win a car on these sites is slim to none. According to Snopes.com, the Range Rover giveaway is a farming scam used to build a Facebook audience quickly.
The scam may also be after your personal data and open you to malware or "clickjacking," the outlet reports.
Article continues below advertisement
Range Rovers aren't the only vehicles promised in these types of scams. Similar scams promised Facebook users could win high-end cars, including an Audi R8, Mercedes-Benz E63 AMG, and Chevrolet Camaro SS.
Similar scams also promise Amazon gift cards, Costco 'anniversary' coupons, and Kroger coupons.
Article continues below advertisement
How can you tell the difference between a Facebook scam and a legitimate giveaway?
Legitimate companies hold Facebook contests as a way to build their social media audience. How can you identify which giveaways are legit and which are scams?
Article continues below advertisement
Look at the date the Facebook page was created. If the page was made just days before the Facebook post, that's your first clue the giveaway is a scam, Snopes.com reports.
Also, check to see if the giveaway is linked to a legitimate company like a car dealership or insurance company.
There are legitimate car giveaways on Facebook, most of which are tied to dealerships. The fundraising company Omaze also holds legitimate contests for vehicles, travel, and more.
Through the for-profit company, you can win prizes like a trip to BoraBora or a custom Ford Bronco by donating to specific charities.
Omaze keeps 20 percent of the donations but then gives the rest to non-profit organizations like the Make-a-Wish Foundation, UNICEF, Charities Aid Foundation, and Teenage Cancer Trust.
So, definitely think twice — and do your due diligence — before entering a giveaway on Facebook.