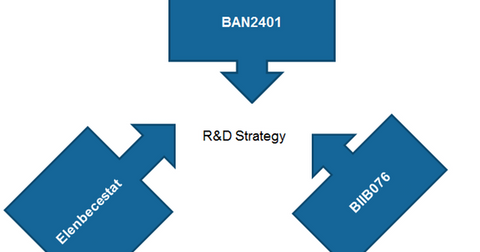 How Is Biogen's Alzheimers' Disease Pipeline Positioned in 2019?
By Margaret Patrick

Updated
Failed program
On March 21, Biogen (BIIB) issued a press release announcing the discontinuation of its Phase 3 trials ENGAGE and EMERGE evaluating its leading investigational asset, aducanumab, targeting patients suffering from mild cognitive impairment due to AD (Alzheimer's disease) and mild AD dementia.
The decision was based on an independent data-monitoring committee's futility analysis. Biogen has joined the long list of companies that have failed to develop effective and safe therapies in AD indications.
Article continues below advertisement
Alzheimers' research strategy
This failed trial has also cast a shadow of doubt on the company's other investigational Alzheimer's therapies, such as BAN2401 and Elenbecestat, as they also target beta-amyloids similar to aducanumab. Biogen, however, plans to leverage the conclusions from its aducanumab Phase 3 trials as well as its Phase 2 study of BAN2401 to determine future development pathways for BAN2401 and Elenbecestat.
On March 22, Biogen and its partner Eisai announced the initiation of a Phase 3 trial comprising 1,566 patients to evaluate the investigational therapy BAN2401 as a treatment option for mild cognitive impairment due to AD or mild AD dementia.
On March 29, the companies announced the continuation of their Phase 3 MISSION AD studies evaluating the investigational oral BACE (beta-amyloid cleaving enzyme) inhibitor Elenbecestat in early AD indications based on the review of the Data Safety Monitoring Board.
Although BAN2401 failed to meet the primary endpoint of its Phase 2 trial after 12 months of therapy, the investigational AD therapy announced positive top line results and a statistically significant improvement based on prespecified endpoints from the same trial after 18 months of therapy.
On June 4, 2018, the companies issued a press release highlighting mixed results from their Phase 2 trial evaluating the investigational AD therapy Elenbecestat. While the therapy was found to be safe and tolerable and demonstrated a statistically significant reduction in amyloid beta levels in the brain, it didn't report a statistically significant difference in terms of clinical symptom decline in patients.
Apart from these investigational therapies, according to its first-quarter earnings conference call, Biogen is also studying its tau-directed AD therapies, such as BIIB092 in a Phase 2 trial, BIIB076 in a Phase 1 trial, and BIIB080 in a Phase 1 trial, in collaboration with Ionis Pharmaceuticals (IONS).