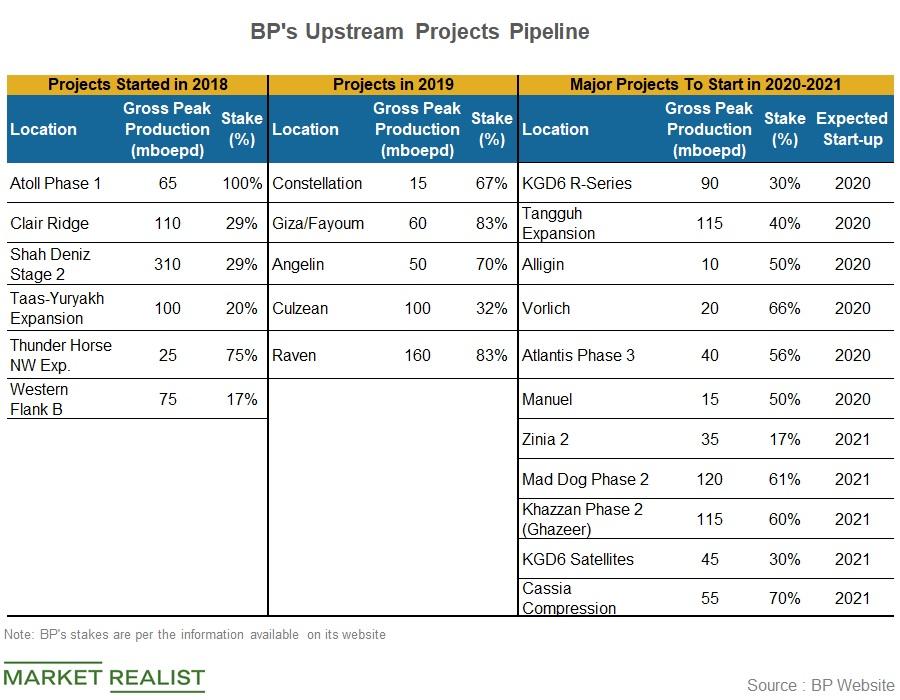 BP's Upstream Production Poised for Growth
By Maitali Ramkumar

May. 8 2019, Published 4:16 p.m. ET
BP's upstream portfolio
BP (BP) has a robust upstream portfolio with a series of projects expected to begin production in the next few years. Let's review the company's upstream projects pipeline in this article.
Article continues below advertisement
Upstream projects pipeline
BP has been rolling out its key upstream projects well within time and budget. Since 2016, BP has started 22 upstream projects. Of these, the company started six projects in 2016, another seven projects in 2017, six projects in 2018, and three projects so far in 2019.
The three projects, which began production in the year, include Constellation in the Gulf of Mexico, the second stage of West Nile Development (Giza and Fayoum fields) in Egypt, and Angelin in offshore Trinidad. Further, in the year, the company expects to begin another two projects West Nile Delta: Raven and Culzean. These are mega projects with Raven having a gross peak production level of 160 mboepd (thousand barrels of oil equivalent per day) and Culzean at about 100 mboepd.
In 2020 and 2021, BP expects to begin another 11 new projects. Of these, Mad Dog Phase 2, Tangguh Expansion, and Khazzan Phase 2 are bigger projects with gross peak production levels of 120 mboepd, 115 mboepd, and 115 mboepd, respectively. The Tangguh Expansion project is expected to begin in 2020 and the other two projects in 2021. Please refer to the above chart for more detail.
Overall, the projects cumulatively are expected to contribute about 900 mboepd of new production, net to BP, by 2021. Thus, the start-up of new projects and ramp-up of existing projects are estimated to boost the company's upstream volumes in the coming years.
Upstream production in the first quarter
In Q1 2019, BP produced 2.66 million barrels of oil equivalent per day (or MM boepd), 2.0% higher than Q1 2018. Also, ExxonMobil (XOM) and Chevron's (CVX) production rose by 2.4% YoY and 6.5% YoY, respectively, to 3.98 MM boepd and 3.04 MM boepd, in Q1 2019. However, Royal Dutch Shell's (RDS.A) production fell by 2.3% YoY to 3.75 MM boepd in the first quarter.