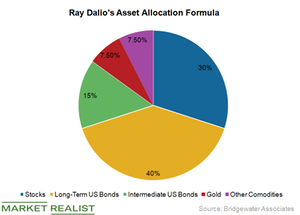 How Investors Could Position for the Next Downturn
By Anuradha Garg

Dec. 26 2018, Updated 4:50 p.m. ET
Get defensive
While talking to CNBC in September, Ray Dalio said that investors should get "more defensive" in the stock market, and warned that stocks' upside looks limited. He added that the projected returns for stocks relative to cash and bonds (BND) look "sort of about right."
He advised investors to get more defensive than aggressive, stating that cash, which was previously in excess, has now been deployed. Concerned about the effects of tax cuts fading and the end of the Fed's easy monetary policy impacting stocks, he urged the Fed not to get ahead of the market on hiking interest rates.
Article continues below advertisement
Markets give up their gains
Since Dalio's September 11 chat with CNBC, the S&P 500 (SPY), the Dow Jones Industrial Average (DIA), and the NASDAQ Composite (QQQ) have fallen 18.9%, 16.1%, and 21.6%, respectively. Even Dalio may not have thought that things would turn around so quickly in the markets and that most of their gains would reverse due to rising concerns. But he probably was right in advising investors to get defensive because the upside seemed limited. Dalio isn't alone in suggesting a defensive allocation—Goldman Sachs suggests investors increase their defensiveness, forecasting "heightened risk and fat tails."
Balanced portfolio of assets
Dalio recommends having a balanced portfolio of assets to weather financial crises. His all-weather asset allocation formula includes 30% stocks, 40% long-term US bonds (AGG), 15% intermediate US bonds, 7.5% gold (GLD), and 7.5% other commodities (XME). This portfolio, Dalio notes, needs to be re-balanced annually. At the end of the third quarter, Bridgewater Associates' five largest holdings were:
Next, we'll discuss Dalio's position on gold and why he suggests investors stay invested in the metal.