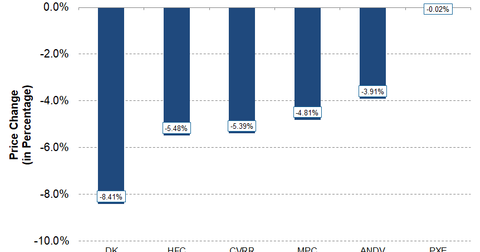 Delek US Holdings: The Biggest Refining and Marketing Decliner
By Nicholas Chapman

Updated
Refining and marketing losses
In this article, we'll look at the stocks with the biggest losses in the refining and marketing sector in the United States. We selected refining and marketing companies with market capitalization levels greater than $100.0 million and average trading volumes greater than 100,000 shares last week.
Delek US Holdings: The biggest decliner
Among the stocks in the refining and marketing sector, Delek US Holdings (DK) saw the largest decline so far in the week ended June 15. It decreased from last week's close of $56.69 to $51.92 on June 14, which is a drop of ~8.4%. DK fell sharply on June 11 with a decline of ~6.0%. On June 12, DK tried to recover some of Monday's losses, but it fell again on June 13.
The current decrease in Delek US Holdings stock is part of the downward trend that started after it hit its historic high of $61.57 on June 4. DK has fallen ~19.0% since then. 
DK is approaching its rising 50-day moving average. On June 14, DK traded at $51.92, and its 50-day and 200-day moving averages stood at $49.83 and $36.01, respectively.
Moving down: HFC, CVRR, MPC, and ANDV
In the list of decliners for the week, Delek US Holdings (DK) is followed by HollyFrontier Corporation (HFC), CVR Refining (CVRR), Marathon Petroleum (MPC), and Andeavor (ANDV). So far this week, HFC, CVRR, MPC, and ANDV have fallen ~5.5%, ~5.4%, ~5.8%, and ~3.9%, respectively.
On June 14, HollyFrontier Corporation (HFC) paid a dividend of $0.33 per share on its common stock. This was the dividend payment for its fiscal third quarter. On that date, the company's dividend yield—which measures the trailing-12-month dividend divided by its stock price—stood at ~1.8%. On June 14, HFC stock closed at $72.96 per share.
On June 6, Andeavor (ANDV) announced its plans to build a refined products terminal at the Rosarito storage facility of Comisión Federal de Electricidad in Baja California. ANDV plans to spend ~$100.0 million to construct and operate the facility.
The PowerShares Dynamic Energy Exploration & Production Portfolio ETF (PXE) is down ~0.02% so far this week.
Next, we'll take a look at the gaining stocks from the integrated energy sector.