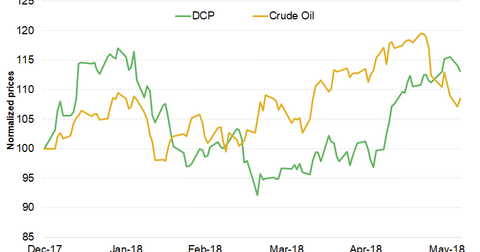 DCP Midstream Would Benefit from Higher Crude Oil Prices
By Kurt Gallon

Updated
DCP Midstream
DCP Midstream (DCP) is ranked seventh in terms of its correlation with crude oil. The one-year correlation between DCP Midstream and crude oil was 0.33 as of May 6. DCP Midstream's relatively high correlation with crude oil reflects its significant involvement in the natural gas processing and NGLs (natural gas liquids) businesses. Currently, DCP Midstream is one of the largest natural gas processors and NGLs producers in the United States. DCP Midstream's total natural gas processing capacity was 7.8 bcf/d (billion cubic feet per day) as of December 31, 2017.
According to a recent investor presentation, DCP Midstream has hedged ~18% of its 2018 gross margin as of May 10—60% is fee-based, while 22% is commodity-linked. The partnership is targeting ~80% of the 2018  gross margin to be fee-based and hedged—slightly lower than the 2017 targets.
Article continues below advertisement
Strong crude oil prices are expected to drive DCP Midstream's non-fee based margins higher. The partnership has assumed a crude oil price range of $50–$58 per barrel for its 2018 guidance. DCP Midstream expects every $1 per barrel change in crude oil prices to have a $2 million impact on its margins. The partnership could be one of the biggest beneficiaries if crude oil climbs to $80 per barrel.
Strong crude oil prices benefit the partnership's commodity-linked margins. However, there's high downside risk. DCP Midstream plans to lower its downside risk through hedging. The partnership plans to focus on high margin and fee-based logistics businesses, which include natural gas and NGLs pipeline expansion.
Analysts' recommendations
Recently, Stifel Nicolaus downgraded DCP Midstream to "hold" from "buy." Deutsche Bank initiated coverage on the partnership with a "hold" rating. Overall, DCP Midstream has seen five rating updates since the beginning of this year—two upgrades, two downgrades, and one new coverage initiation. Now, 64.3% of the analysts surveyed rate DCP Midstream as a "hold," 28.5% rate it as a "buy," and 7.1% rate it as a "sell." DCP Midstream is trading above its average target price.