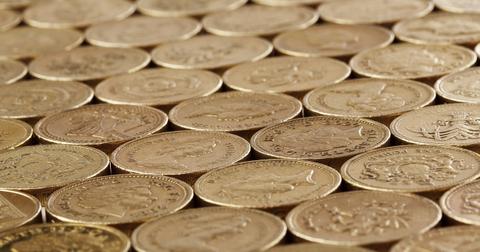 The Slump in Precious Metals and Their Technicals
By Meera Shawn

Updated
2018: The lowest level for gold
All four precious metals witnessed a choppy market on May 15. Gold dropped about 2.1% and closed at $1,288.90 per ounce. This is the lowest level of gold so far this year, and these low levels were last seen in December 2017 for an ~$29.00 decline. The RSI level for gold was 29, which indicates a possible reversion in price.
Silver fell 2.3% and closed at $16.20 per ounce. The RSI level for silver also dipped to 41, which was a two-week low for silver. Platinum declined 1.9% and was trading at $893.80 per ounce. Palladium fell 1.3% to trade at $985.40 per ounce. The RSI levels of platinum and palladium were 43 and 55, respectively.
The chart above depicts the slumping prices of the two core precious metals—gold and silver—over the last month.
Impact of funds and miners
On May 15, the SPDR Gold Trust ETF (GLD) declined about 1.6%. It traded at $122.50 and held approximately 856.2 tons in the fund. The iShares Silver Trust ETF (SLV) also was down ~1.5% for the day. GLD and SLV recorded YTD losses of 1.0% and 4.1%, respectively.
Almost all the mining shares joined the precious metals in their decline on May 15. Harmony Gold (HMY), Eldorado Gold (EGO), IamGold (IAG), and Coeur Mining (CDE) fell 2.6%, 0.43%, 2.5%, and 2.2%, respectively.