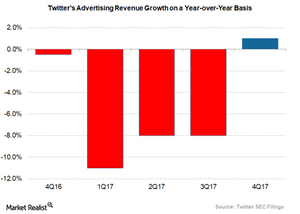 What's Twitter's Take on Regulating Political Ads Online?
By Sophia Nicholson

Aug. 18 2020, Updated 5:25 a.m. ET
Twitter supports federal regulations
Social media giant Twitter (TWTR) has recently shown support for the US Senate's proposed legislation requiring more transparency for running political advertising online. Twitter's step toward making its platform more secure came after its peer Facebook (FB) became tangled in a data breach controversy.
The data leak issue led the Federal Trade Commission to investigate Facebook's operations. The issue also caused several lawmakers to increase their scrutiny of the social media giant and bring forward regulations to make the platform more transparent. Facebook CEO Mark Zuckerberg also had to testify in front of US Senators over the course of two days.
Article continues below advertisement
Honest Ads Act
In his testimony, Zuckerberg agreed that the social media platform must be regulated but said that it had to be done in the right way. Facebook is also in support of new legislation called the Honest Ads Act, which will control and regulate online political ads to make platforms more transparent. Following Facebook, Twitter supported the Senate's proposed bill. which would require tech companies to disclose the costs and buyers of political ads and how these ads had been targeted.
Senator Mark Warner, a Democrat from Virginia who is supporting the Honest Ads Act, has also urged Alphabet's (GOOGL) Google to jump on the bandwagon and increase transparency in political ads.
Twitter soars despite sluggish ad business
San Francisco–based Twitter has been struggling to generate profits due to its weak core advertising business. The social media giant reported earnings for the first time in 4Q17 after going public in 2015, but that too was driven by higher revenues from data licensing and other non-advertising sources.
Like Twitter, Facebook, Google, Snap (SNAP), and Yelp (YELP) are also dependent on advertising for the majority of their revenues. In 4Q17, Facebook's ad sales rose faster than Google's at 48.0% YoY (year-over-year) compared to 21.4% YoY.