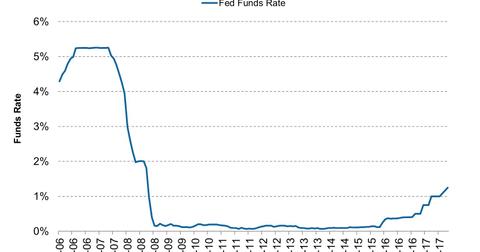 Why Bill Gates Thinks a Financial Crisis Like 2008 Is Certain
By Sarah Sands

Mar. 14 2018, Published 1:03 p.m. ET
Bill Gates on the financial condition
On March 7, 2018, during a Reddit Ask Me Anything production, Bill Gates, billionaire investor and principal founder of Microsoft, shared his view on the US market and the US economy.
When asked about whether the United States will have another financial crisis like 2008 in the near future, Gates replied, "Yes. It is hard to say when but this is a certainty." Although the economy has been showing signs of strength in the current scenario, there are certain factors that are disturbing the market.
Article continues below advertisement
Factors disturbing the market
Many fund managers already warned during the recent market corrections in February 2018 that higher leverage-based trading and leveraged-based products have disturbed the market, and they might cause a disruption in the stock market. On the other hand, the Fed has been signaling an aggressive rate hike process in the near future since the economy is showing signs of strength. However, we might see a huge correction in the market due to the Fed's faster rate hike process.
During the 2008 financial crisis, the higher-leverage-based financial system caused a huge depression in the global economy (ACWI). The present financial situation is creating some similarities with the condition before the 2008 financial crisis.
Performance of the markets
The SPDR S&P 500 ETF (SPY), which tracks the performance of the broader market S&P 500 index, returned 300% in the last ten years. Immediately after the 2008 global financial crisis, the Fed lowered its key interest rate near zero to support the economy, which had already entered into the great recession. Before the crisis, the United States was experiencing a bull market.
In the next part of this series, we'll analyze Gates's view on the US economy.