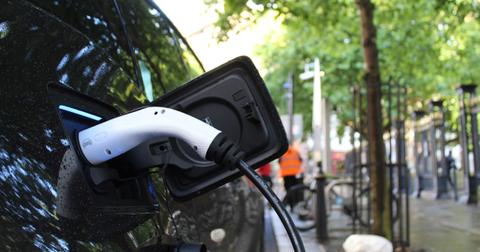 Are Solid-State Battery Stocks a Good Investment?
By Ruchi Gupta

Mar. 16 2021, Published 2:46 p.m. ET
Solid-state batteries are thought to be the future because they promise to solve the many drawbacks of conventional batteries in use currently. Many investors are excited about the prospects. Solid-state battery stocks are getting a lot of attention right now. 
Article continues below advertisement
Some companies with solid-state battery programs are established corporations while others are startups. Some companies are directly involved in building solid-state batteries, while others have focused on supplying materials used to make the batteries. What are the best solid-state battery stocks to buy now and how do you go about investing in them? Before we look at the best solid-state battery stocks, let's see what solid-state batteries are and the problems they could solve.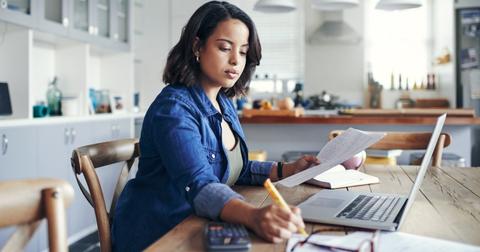 Article continues below advertisement
Solid-state batteries and their benefits
Solid-state batteries use solid electrolytes instead of liquid electrolytes. Although the current lithium-ion batteries like those used in smartphones and electric vehicles are good, there are many safety concerns about them. For example, conventional lithium batteries contain flammable liquid that poses a fire risk. 
Article continues below advertisement
In addition to safety, solid-state batteries have higher energy density than their liquid cousins. Therefore, solid-state batteries can offer a longer driving range when used in electric cars. Solid batteries can power devices like smartphones for more hours before requiring a charge. 
Also, solid batteries promise to reduce the charging time, which could encourage electric vehicle adoption. Some drivers have avoided electric cars because it can take hours to recharge them when it only takes five minutes to refill the tank at a gas station.
Article continues below advertisement
Solid-state batteries would make driving electric cars safer, provide more range, and lower the costs. These benefits might encourage more people to make the transition to electric cars.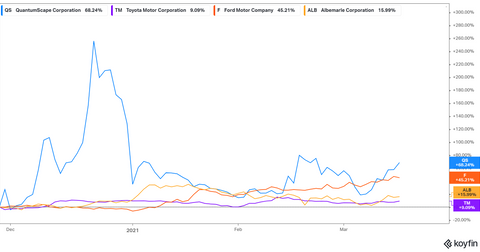 Article continues below advertisement
Top solid-state battery stocks
Considering solid-state batteries' bright prospects, there's a rush to make them. Electric vehicle maker Fisker (FSR) tried to build solid batteries but halted its plans for now. Other companies are still pressing on with solid battery programs. Some of the top solid-state battery stocks right now are:
Quantumscape (QS)
Toyota (TM)
Ford Motor (F)
Albemarle (ALB)
QuantumScape makes batteries for electric cars. It has been working on solid-state batteries and the program is progressing well with the company moving closer to production. QuantumScape is backed by Volkswagen, a major automaker focused on producing electric cars. At $63 per share, QuantumScape stock has gained more than 250 percent in the past six months. However, the stock still trades at more than a 50 percent discount to its recent peak. 
Article continues below advertisement
Toyota is a leading global automaker. Now, it wants to be a leading solid-state battery company. The Japanese auto giant has developed a solid battery that promises to be a game-changer. If used in electric cars, the Toyota solid battery can fully charge in 10 minutes and offer more than 310 miles of driving range on a single charge. Toyota has accumulated more than 1,000 patents related to solid-state batteries.
Toyota stock has gained more than 30 percent in the past 12 months. The stock has more room to run as the $183 average target price implies 20 percent upside potential from current levels. 
Article continues below advertisement
Today, Solid Power unveiled a new all solid-state lithium metal battery cell. This 22-layer, 20Ah cell surpasses energy densities of any commercially available li-ion cell manufactured today, and was created using continuous roll-to-roll processes that mirror li-ion production. pic.twitter.com/ZveffdBGCS

— Solid Power (@SolidPowerInc) December 10, 2020
Article continues below advertisement
Ford has invested in solid-state battery startup Solid Power. The other investors are Hyundai and Samsung. Ford stock offers investors an opportunity to partake in Solid Power's success. At $13 per share, Ford stock has gained more than 130 percent in the past 12 months but still trades at a discount to its recent high.
Albemarle is among the world's leading producer of lithium, a central material in battery manufacturing. Ford-backed Solid Power uses lithium in its solid-state batteries. At $158 per share, ALB stock has gained more than 130 percent in the past 12 months. The stock looks to have more upside since it currently trades at 15 percent below its recent peak
Article continues below advertisement
Outlook for solid-state batteries
Solid-state battery companies should see long-term growth. The global solid-state battery market is on track to grow to $87.5 billion by 2027 from $32.9 billion in 2019. The growing adoption of portable electronics like smartphones and the rise of electric cars are some of the factors fueling the solid-state battery market's growth. Another growth diver is the shift to renewable power sources like wind and solar that require batteries for energy storage. 
How to invest in solid-state battery stocks
Many solid-state batteries are publicly-traded companies. If you have a brokerage account with Robinhood, Fidelity, Webull, or Schwab, you can proceed to buy solid-state stocks like Quantumscape, Toyota, Ford, and Albemarle.
For private solid-state battery companies like Solid Power, you'll need to go through the private capital market to access the stocks. Keep in mind that the SEC restricts access to the private market to accredited investors with a net worth of at least $1 million and certain level of trading experience.