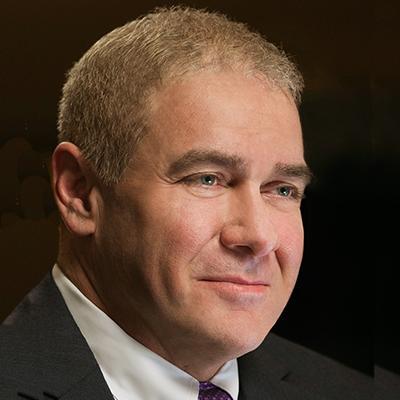 Guggenheim Partners CIO Scott Minerd Expects Bitcoin To Drop
Scott Minerd, CIO of Guggenheim Partners, regularly shares his insights on macro matters and items of special interest. On July 1, he wrote on Twitter that the U.S. Q2 2022 GDP is tracking negative for second consecutive quarter. He added, "This, plus 3 (and likely to be 4) consecutive negative months of the LEI suggests a #recession may have already begun." The market is already worried about a potential recession, and Minerd's warning grabbed their attention. What's his net worth?
Article continues below advertisement
Scott Minerd
Financial expert, commentator
Guggenheim Partners CIO Scott Minerd is well known in financial circles. He grabs people's attention with his market observations.
Birthdate: March 23, 1959
Birthplace: Ohiopyle, Penn.
Birthname: Scott Minerd
Education: Bachelor's in economics from the University of Pennsylvania and a graduate diploma from the University of Chicago Graduate School of Business
Spouse: Eloy Mendez
Minerd, global CIO and chairman of Guggenheim Partners, is also a member of the Federal Reserve Bank of New York's Investor Advisory Committee on Financial Markets, an advisor to the Organization for Economic Cooperation and Development, and a contributing member to the World Economic Forum. He routinely contributes his opinions and knowledge to financial media such as The Wall Street Journal, the Financial Times, Bloomberg, and CNBC.
Article continues below advertisement
After completing his studies, he worked at PriceWaterHouseCoopers for a reported $15,000 per year. Before he joined Guggenheim Partners, he was managing director for Morgan Stanley and Credit Suisse. Since joining Guggenheim in 1998, Minerd has guided the company's investment strategies and overseen client accounts across a broad range of fixed-income and equity securities.
Article continues below advertisement
Minerd's net worth
According to the LocalReport, Minerd was worth more than $325 million in 2021. He has various sources of income and could make or spend millions managing Guggenheim's investments.
Article continues below advertisement
Minerd's views on Bitcoin have varied but he expects a downturn
While talking to Bloomberg in an interview at the World Economic Forum in Davos, Minerd said that crypto and Bitcoin have failed to establish themselves as credible institutional investments. And in May, he told CNBC that Bitcoin has a lot of room for downside and it could fall to $8,000, especially with the Fed being restrictive.
Article continues below advertisement
However, you should remember that at one point in Dec. 2020, Minerd predicted that Bitcoin would be worth around $400,000, and in Feb. 2021, he bumped up his estimate that said Bitcoin rise to $400,000 to $600,000. But by Oct. 2021, Minerd said he was no longer invested in Bitcoin.
Like other risk assets, cryptocurrency has seen a very weak 2022. High inflation, rising interest rates, and the collapse of stablecoins have led to a sell-off in these assets. Cryptocurrencies' market cap as a whole has come down to one-third of what it was in Nov. 2021.